October 23, 2018
Jan Marks new chair of the College of Business Administration Advisory Council
Submitted by Brent Fritzemeier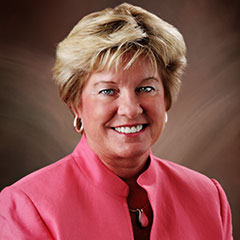 Jan Marks, owner and chief financial officer of Varney & Associates, CPAs, has been selected as the new chair of the Kansas State University College of Business Administration Advisory Council.
The business advisory council provides a forum for interaction between the business community and the College of Business Administration at K-State. The council is made up of business leaders who volunteer their time to discuss issues pertinent to the ongoing success of the college.
Marks will take over as chair of the council's executive committee from Barry Robinson, who has served in the role for the past two years. She was recently named the 2018 K-State Alumni Entrepreneur of the Year.
"Jan has been an invaluable member of our advisory council, and I am excited to work more closely with her as the chair of the executive committee," said Kevin Gwinner, Edgerley family dean of the College of Business Administration. "This is an exciting time in the College of Business, and I am confident that Jan's leadership and perspective on the council will have a big impact for our students, faculty and staff."
After earning her Bachelor of Science degree in accounting from K-State, Marks has spent the majority of her more than 40-year career with Varney & Associates. Along with being a certified public accountant, Marks also is a personal financial specialist. She specializes in tax planning and business consulting, with clients including professional practices as well as wholesale, retail, manufacturing, agriculture, construction and small business. She is an active member of the American Institute of Public Accountants and the Kansas Society of Certified Public Accountants.
Throughout her career, Marks also has served on numerous boards and committees. She currently serves on the Kansas State Newman Foundation Board, the Salina Diocese Finance Council, the advisory board for the K-State Center for the Advancement of Entrepreneurship and the Greater Manhattan Community Foundation.