September 27, 2018
Loan Tang selected as Gilman Alumni Ambassador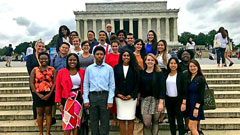 Loan Tang, senior in life sciences and pre-medicine, Garden City, is serving as one of 24 Gilman Alumni Ambassadors across the United States for the 2018-2019 academic year. Loan is the first K-State student to be selected to serve as an official representative of the U.S. Department of State's Gilman International Scholarship Program.
Loan received the Gilman scholarship in summer 2017 to complete an internship at the National Hospital of Traditional Medicine in Hanoi, Vietnam. In summer 2018, Loan attended a training in Washington, D.C., to learn more about how to promote the Gilman Scholarship Program. Upon her return, Loan collaborated with Education Abroad and the Office of Nationally Competitive Scholarships to plan the Gilman Panel and Workshop during Funding Education Abroad Week.
The Gilman Scholarship Program, sponsored by the U.S. Department of State's Bureau of Educational and Cultural Affairs, is an undergraduate grant program for U.S. citizens of limited financial means to enable them to study abroad, thereby internationalizing their outlook and better preparing them to thrive in the global economy. The program provides awards of up to $5,000 to undergraduate students at two- and four-year institutions who are receiving a Pell Grant to study or intern abroad.
The next Gilman scholarship application deadline is Oct. 2 for spring 2019 and the summer 2019 early application cycle. For more information about the Gilman scholarship, contact Tang at loantang@k-state.edu or Sara Boro, Education Abroad advisor, at seboro@k-state.edu.