August 23, 2012
K-State On the Go mobile app for iPhone and iPad available from iTunes
Submitted by Cindy Hollingsworth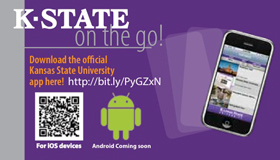 A new Kansas State University mobile app for iPhone and iPad users is now available for download from iTunes. If you're new on campus, the geolocation feature will help you figure out what building you're near and the descriptions will help you know what's inside. You'll also be able to access the university's Twitter and news feeds, find information about area attractions and even hear an audio rendition of the Wabash Cannonball. For a direct link to the app go to http://bit.ly/PyGZxN. 
Additional content will continually be added to the app in the coming months and will automatically update for each user when the app is opened. Send suggestions for content and features to socialmedia@k-state.edu.
The Android version of the app is expected to be released soon and will be announced through K-State Today and on K-State social media channels.