August 21, 2012
Diana Laufenberg will present 'How to Learn? From Mistakes' as seen on TEDTalks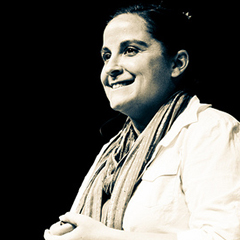 Renowned speaker Diana Laufenberg aims to collaborate with students and colleagues to build meaningful and engaging learning environments. Come see why her insights on education and learning have attracted over 450,000 viewers on TED.com!
Laufenberg will present "How to Learn? From Mistakes" from 3:30-4:30 p.m. Thursday, Aug. 23, in the town hall of the leadership studies building.
According to Laufenberg, in the age of information surplus, our schools hold immense potential for authentic and experience-based learning. We are teaching and learning in an educational landscape where the students no longer have to come to school to "get" the information. Never have educators had such opportunities to think creatively about their practice. Never has it been so incumbent upon us to provide students with innovative and dynamic learning.
This talk will provide practical classroom examples of activities and assessments as well as push audience thinking on what it means to teach and learn in modern learning environments.
A farm kid from Wisconsin, Laufenberg has taught social studies to student from seventh to 12 grade. Her latest adventure is at the Science Leadership Academy, or SLA — one of Philadelphia's newer high schools — in partnership with the Franklin Institute.
The approach is both old and new. SLA is an inquiry-driven, project-based high school focused on 21st-century learning. SLA provides a rigorous, college-preparatory curriculum with a focus on science, technology, mathematics and entrepreneurship. Students at SLA learn in a project-based environment where the core values of inquiry, research, collaboration, presentation and reflection are emphasized in all classes.
Special thanks to EdParkour, the K-State College of Education and the K-State Center for the Advancement of Teaching and Learning for sponsoring Laufenberg's presentation.