September 13, 2018
Johnson Cancer Research Center fall 2018 newsletter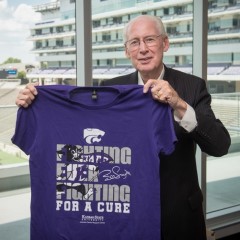 Read about the Johnson Cancer Research Center's activities and achievements in its fall 2018 newsletter. Among the highlights:
K-State's fifth annual Fighting for a Cure Day will be Oct. 13, and this year's Fighting for a Cure shirt features Coach Bill Snyder's signature.
Complementing the Fighting for a Cure campaign is a generous offer by a center supporter to match gifts up to $10,000 through Oct. 13!
The 21st annual Rob Regier Memorial Golf Tournament will be Oct. 12.
The ninth annual Pink Power Luncheon will be Oct. 23.