August 24, 2018
Retro Gaming Night Aug. 24
Submitted by Department of Computer Science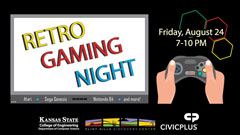 K-State's computer science department will host a Computer Science Showcase at the Flint Hills Discovery Center's Retro Gaming Night from 7-10 p.m. Aug. 24.
At the showcase, learn all about computer programming with a game about binary and an interactive sorting network game. Try out virtual reality with the HTC Vive and play games made by K-State students. Have questions about how you too can make games? K-State's got the answers and the know-how to help you get started.
For a complete list of activities and to register for Retro Gaming Night, visit the Flint Hills Discovery Center's website.