August 15, 2012
Letter from A.D. John Currie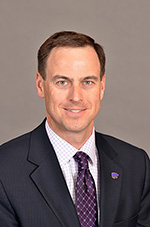 Good Morning K-State Nation!
Welcome (back) to K-State and the land of Big Cranes! Although it has been a little while since I last wrote, it is not for a lack of activity and action around the K-State Nation. And, with our home football opener just 16 days away, let's get caught up on current happenings here in Manhattan and around the world.

Olympic silver for rising senior Erik Kynard
Rising senior and back-to-back NCAA outdoor champion Erik Kynard put an exclamation point on the world in "World-Class Student-Athlete Experience" last Wednesday in London as he captured the silver medal in the high jump at the XXX Olympic Games. I joined a boisterous group of K-State staffers in the Legends Room in Bramlage that afternoon to watch the jump competition live via the web as sports information director David Wiechmann tracked the scores and competition on an old-fashioned white board. It was just awesome to see Erik and then the frequent camera shots of him conferring with our head coach, Cliff Rovelto, who sat trackside with his wife and track operations director Karol Rovelto along with former K-State heptathlete Austra Skujyte, who finished fifth competing for her home country of Lithuania. K-State track is helping to lead our quest for a model intercollegiate athletics program, and we are proud of all the K-Staters who represented their countries in London. And, Coach Rovelto not only represented K-State as Erik's coach but also served as the coach for the other two U.S. high jumpers who advanced to the medal round! Congrats to Erik and Coach Rovelto, along with the five other current or former Wildcats who competed for their respective countries in London: Skujyte, Darius Draudvila for Lithuania, Korene Hinds for Jamaica, Jeffrey Julmis for Haiti and Beverly Ramos for Puerto Rico.
Construction updates
The scene around the athletics complex changes every day. Our Basketball Training Facility contractor, MW Builders, is closing in on the finish line as the hardwood playing floors in our two full-size practice gyms are being installed this week.
And, towering over the Dev Nelson Press Box on the west side of Bill Snyder Family Stadium are Mortenson/GE Johnson's two massive fixed cranes, appropriately topped with purple Powercat flags! Click here to see pictures of the site and remember to check out our construction webcams as well.

As we have discussed previously, the West Stadium Center is scheduled to be in place and operational for the 2013 season, which of course means that we'll play the 2012 season in a construction zone environment. Over the next few weeks our communications and operations staff will be sharing more information on the accommodations we are making to ensure that your game-day experience is as smooth as possible this year. We appreciate your patience and are grateful for the tremendous excitement K-Staters everywhere are expressing for this historic project.

Parking for the 2012 season is relatively unaffected, but this week the building that houses Cats Closet and restroom facilities on the southwest corner of the stadium will be demolished in accordance with the fast-track construction schedule. This will enable concrete foundation footers to be poured in September, making way for vertical steel installation later this fall. It is going to be awesome for our fans to see the progress over the course of the season. And, it's also going to be a powerful message of progress at K-State for the national TV audiences who will join us most weekends!

Of course, we will have ample temporary restrooms, store and concession facilities available for the games, and the central west restroom facilities will remain intact for 2012. Stay tuned in the coming days for more details on the stadium construction, including the relocated Cats Closet and restroom facilities for the 2012 football season. Thank you for your patience!

Tennis courts in progress too
In addition to the West Stadium Center and Basketball Training Facility projects, we are excited that the reconstruction of the outdoor recreation area to the east of the Peters Recreation Complex has commenced.

This cooperative venture between student government, rec services and K-State Athletics will bring new outdoor basketball, sand volleyball and tennis courts as well as other services to the site. For K-State tennis this means that in the spring of 2013 our team will truly have the advantage of on-campus home matches. With superstar Petra Niedermayerova returning for her junior season, we encourage you to support the Cats at their new home next spring. While costing only a fraction of the West Stadium Center, for example, the tennis project illustrates a huge step forward in our commitment for a world class student-athlete experience for ALL our teams.

None of this progress would be possible without the support of the best fans in college sports. Thank you!

Here are some more updates from around the department.

Excitement building as volleyball picked third in preseason Big 12 poll
Our first team to kick off competition this fall will be Coach Fritz's volleyball charges as they look to build on last year's Sweet 16 run with all starters from the 2011 squad returning. Season ticket sales have already eclipsed last year's total and there is still time to reserve your seat in newly-refurbished Ahearn Field House, which over the summer received a fresh coat of purple paint, new scoreboards and new team banners. Click here for ticket and schedule information --- the season starts August 24-25 when Oregon State, UC Irvine and Oakland visit Manhattan for a tournament.

Men's basketball barnstorming Brazil
Coach Bruce Weber's team is in the midst of a 10-day trip to Brazil and have won two of their first three games while enjoying a once-in-a-lifetime cultural and educational experience. Click here for a full report and SID Tom Gilbert's daily tweets and updates.

Coach Weber and his staff have done a great job taking advantage of the special 10 practices allowed in advance of a foreign tour. And, several thousand K-State fans turned out for an open practice and scrimmage on Aug. 4. In case you missed it, here is the release on our full 2012-13 schedule which was announced last week.

Football tickets selling at record pace
Five of our seven games are nearing sellout status and both season and student ticket sales are currently ahead of sales from a year ago. A very limited number of seats remain for the Missouri State, North Texas, KU, Oklahoma State and Texas games, while great seats are still available for the highly-anticipated matchup with Miami on Sept. 8 and the Oct. 27 homecoming game with Texas Tech. Following the fourth annual K-State Family Reunion on Sept. 1, the Hurricanes from the ACC will make their return trip to Manhattan after last season's exciting Wildcat win in Miami. Let's make sure this game, which will have the attention of the entire college football world, is loud and the stadium is filled to the brim with purple! Click here for ticket information for all seven home games, including the Miami contest.

Fall football kickoff set for Saturday
While Coach Snyder and our football team continue to grind through fall camp, fans will have their first opportunity to see the 2012 Cats Saturday, Aug. 18, during our annual Fall Football Kickoff. The free event will start at 5 p.m. with practice being opened to the public before Coach Snyder and the captains address the crowd at 6 p.m. Fans will then be able to head down on the field for autographs until the event wraps up at approximately 7:30 p.m. Click here for full details on the event. Following the autograph session, head over to Ahearn Field House and catch the volleyball team's Purple/White scrimmage, which begins at 7 p.m. Admission is also free.

Colbert-Fogler golf update
Last night I attended the welcome dinner for the 37th Colbert-Fogler K-State Golf fundraiser out at Colbert Hills. It was great to have K-State alumni like Bob Chipman and Lon Kruger back to support our golf programs. From the beautiful clubhouse patio overlooking the course and Manhattan you can see the tops of those cranes at Bill Snyder Family Stadium. Indeed, the vision and dreams of those who founded and built our tremendous golf facility set a new bar for what is possible at K-State. Be sure and come out to play Colbert Hills and enjoy the dining facility this fall.

It has also been a busy summer for members of our men's and women's programs as many have had terrific performances on courses across the country. In fact, current golfer Kyle Weldon and former Wildcat Kyle Smell began play this week in Colorado at the 2012 U.S. Amateur. Smell also defeated current Wildcat Ben Juffer earlier this summer in an all-Wildcat final at the 2012 Kansas Amateur. On the women's side, Gianna Misenhelter advanced to match play in the 2012 U.S. Women's Amateur Public Links Championship last month, while Hanna Roos has had a great summer with several wins back home in Sweden.

That will do it for today. Thanks as always for everything you do to support K-State. We'll see you in the next few weeks as the 2012-13 year gets underway with exciting volleyball and football action. Let's pack Ahearn Field House and Bill Snyder Family Stadium with purple!

Go Cats!


John Currie