August 15, 2018
A letter from President Myers
Submitted by President Richard Myers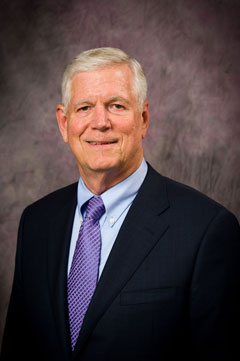 Dear K-State family,
Welcome back, K-Staters! A new fall semester brings great energy and enthusiasm to our campuses and communities. This time of welcome and beginnings reminds me how lucky we are to be at K-State. It's true we face many challenges, but with every challenge comes an opportunity for us to better serve our students, state, country and world.
During my travels over a busy summer I had the opportunity to speak with leaders from other universities. I was struck by the similarities we share and intrigued to learn how others are addressing pressing higher education issues. Reflecting on these discussions, I came away with a deeper appreciation for how the K-State family responds to changes and the challenges of an evolving higher education landscape.
Our new provost, Chuck Taber, has arrived and I hope you will welcome him to K-State when you meet him. He has already delved into several of our major initiatives, including the new budget model and strategic enrollment management, and has made a significant impact. The university leadership — vice presidents and deans — all understand there is uncertainty about what these two initiatives will mean to individuals and units. This stress is understandable and we will spend the rest of August and part of September communicating the details and way forward.
This month we will launch our shadow learning year for our budget modernization initiative during a university leadership retreat on Aug. 16, a university open forum and the First Tuesday meeting in September. I hope you can join us for the open forum on Aug. 30 from 9:00-11:00 a.m. in Forum Hall at the K-State Student Union. During this academic year, we'll have extensive dialogue about the new budget model and how we can use this tool to shape our university for the future. The Strategic Enrollment Management team had a very busy summer and efforts are in full swing to get us growing again. You will hear more details about both initiatives in the next few weeks.
A big salute to those who made the heroic efforts since May 22 to restore Hale Library and technology services to our Manhattan campus following the fire. While recovery of this important and historic library building will take quite some time, nearly all library and IT services are available at new locations. You can find more detailed information at Hale Library: The Next Chapter. Hats off to our library staff, IT folks and all those who spent incredible hours getting us ready for the fall semester — another excellent example of the Wildcat Way!
There are a lot of truly great things happening at Kansas State University and I continue to be honored to work with each and every one of you. Thank you for all you do and have a great fall semester.
Sincerely,
Richard B. Myers
President
Kansas State University