August 6, 2018
Paulicia Williams joins Educational Supportive Services as student services coordinator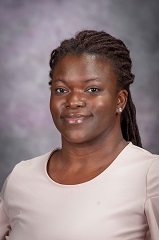 The Educational Supportive Services TRIO program welcomed Paulicia Williams on June 11 as student services coordinator.
She is responsible for working with staff in the identification and verification of eligible students for Educational Supportive Services and providing academic support services to those students. She also coordinates the academic intervention program to provide services for qualifying students on academic warning.
Williams comes to K-State with more than 14 years of experience providing academic services to diverse populations, including working with students who are low-income and first-generation college-age students.
Williams has served as career counselor, diversity coordinator, disability coordinator, and most recently, as academic supervisor at Flint Hills Job Corps. She has spent her career working as a mentor, counselor, educator, supervisor, and advocate for students from high-risk populations and will be a valuable asset to K-State students and staff alike.
Williams earned a Bachelor of Science in sociology and a minor in journalism from Kansas State University.