July 20, 2018
Biosecurity Research Institute hosts Mandela fellows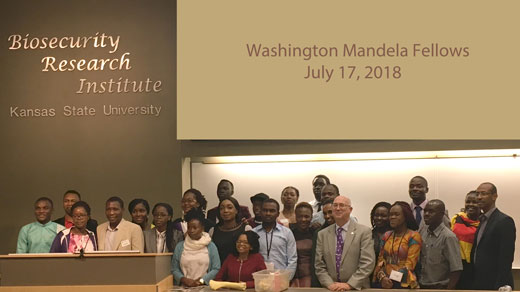 The K-State Biosecurity Research Institute hosted 25 participants from the 2018 Mandela Washington Fellowship for Young African Leaders program on July 17. Stephen Higgs, director of the BRI, delivered a presentation about ongoing infectious disease research, including diseases that occur in Africa and research collaborations between the BRI and researchers in African countries.
The fellows asked many questions and were eager to find out how to build future collaborations and learning opportunities. One topic of discussion was a current Rift Valley Fever outbreak in Rwanda and Uganda. Higgs said he also discussed African Swine Fever, Classical Swine Fever, and wheat blast.
"They asked about maintaining a safe food supply and potential threats to agriculture in Africa. They asked about bioterrorism and whether we are prepared to deal with deliberate or natural outbreaks," Higgs said.
The Mandela Washington Fellowship, the flagship program of the Young African Leaders Initiative empowers young African leaders through academic coursework, leadership training, mentoring, networking, professional opportunities and local community engagement. Read more about the program.