July 11, 2018
K-Staters contribute to Greater Kansas City production of 'Newsies'
Submitted by Communications and Marketing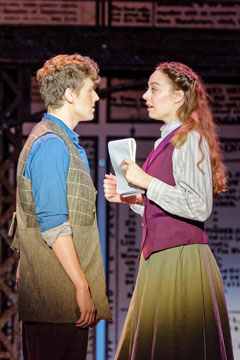 Noah Lindquist and Kelly Urschel, both K-State senior musical theatre students, star in the Coterie Theatre and The White Theatre at the Jewish Community Center of Greater Kansas City's co-production of Disney's "Newsies." The performance runs Wednesdays, Thursdays, Saturdays and Sundays through July 29.
Jerry Jay Cranford, K-State theatre professor, is the show's director and choreographer. Cranford brings a wealth of experience and expertise to the project, with acting, dancing, choreography and directing credits from Kansas City to New York City.
Lindquist is a student of Reginald Pittman, professor of music, director of opera and head of K-State's voice division; and Urschel is a student of Janie Brokenicky, instructor of voice and music theory.
This show features a cast of all-local professional and nonprofessional adult and youth actors, and will be performed live on stage at The White Theatre at "The J," 5801 W. 115th St., in Overland Park.
Photo courtesy of the Jewish Community Center.