June 29, 2018
Recent veterinary graduate receives Merck Animal Health Veterinary Student Innovation Award
Submitted by Gabriella Doebele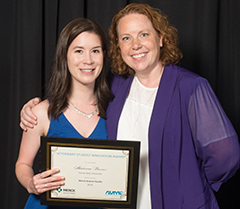 Akaterina Davros, a May 2018 Doctor of Veterinary Medicine graduate from the Kansas State University College of Veterinary Medicine, is among the 28 recipients of the 2018 Merck Animal Health Veterinary Student Innovation Award.

The award recognizes graduating seniors at each veterinary school accredited through the American Veterinary Medical Association in the U.S. and Canada. Students chosen must be in good academic standing and have demonstrated innovation, entrepreneurship and creative forward-thinking in the development of a project or product that inspires others within the veterinary profession.

Davros, who is from Shaker Heights, Ohio, received the honor for her help with creating programs to improve mental and physical health of veterinary students, staff and faculty.

"I scheduled weekly free yoga classes, created an appreciation board in the Veterinary Health Center and other programs to break down the mental health stigmas in our profession," Davros said

Davros is currently an emergency medicine intern at the Fort Collins Veterinary and Emergency Rehab Hospital in Fort Collins, Colorado. However, she would like to see her days as a Wildcat continue at some point in the future.

"I would love to one day come back to the K-State College of Veterinary Medicine and teach other students," she said.