June 8, 2018
Kansas State Polytechnic hosts 32nd annual awards banquet to honor achievements of students, faculty and staff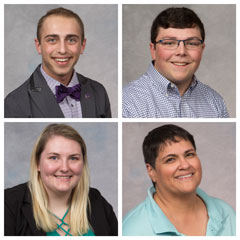 From recognizing the top senior in each degree option to honoring students for their community service and inspirational spirit, the Kansas State University Polytechnic Campus has highlighted the achievements, attitudes and extra efforts of Wildcats during an annual celebration at the end of the spring semester.
Now in its 32nd year, the K-State Polytechnic Awards and Recognition Banquet brought together faculty, staff and students April 19 to commemorate a variety of accomplishments made throughout the 2017-2018 school year. During the event, more than 25 accolades were handed out to students, faculty, staff and campus organizations. Honors in two categories — Outstanding Campus Awards and Wildcat Pride Awards — were open for nominations from anyone on campus and were decided upon by an established committee. The recipients of the Outstanding Academic Student Awards were selected by faculty in each degree area.
The K-State Polytechnic Awards and Recognition Banquet was organized by a group of students with Shanna Walker, junior in airport management and professional pilot, at the helm as committee chair. Julie Rowe, student activities and career center coordinator, served as their mentor and says while students, faculty and staff on campus are hard-working and perseverant in their educational goals and job responsibilities, not because they want to be lauded, but because of their natural character, it is important to give people the recognition they deserve.
"Whenever someone takes notice of your skill or craft and how well you're doing it or the time you're putting in, it just feels good," Rowe said. "This banquet helps the members of our campus know that they are seen, and the work they are doing and the difference they are making is appreciated and applauded. I would encourage everyone to take time to nominate someone for these awards because the acknowledgement is a small but significant way to show gratitude and provide validation."
The Wildcat Pride Awards, handed out in the areas of community service, most inspirational, determination and dedication, are the most coveted of the student honors. This year, two social work and two mechanical engineering technology majors were selected. Below are the recipients and from their nominators, why they deserved to be chosen.
RaeLynn Roe, a junior in social work, Wichita, received the Wildcat Pride Award for Community Service, which recognizes a student who understands the civic responsibility of serving the community, sees the bigger picture and is aware of the community's needs. As a social work student, volunteerism is at Roe's core. She has assisted initiatives that have brought food, clothing and undergarments to local homeless men and women as well as domestic violence victims. She serves her peers on campus as a student worker in the library and as a mentor in TRiO Student Support Services. Roe also is an active member of Social Work Wildcats and SGA and has led efforts to create a food pantry and career closet on campus.
Clayton Bettenbrock, a junior in mechanical engineering technology and technology management, Geneseo, is the recipient of the Wildcat Pride Award for Determination, which is presented to a student who shows a quality of firmness in beliefs and actions, doesn't quit until an answer or decision is reached, and pursues life by focusing on achieving a goal with passion. According to his nominator, Bettenbrock "knows what he wants in life and is taking the necessary steps to reach his goals." A double major, he has a solid background in both engineering and business; is a student ambassador and involved in Baja SAE and Christian Challenge on campus; and has secured a summer internship at Ardent Mills, a flour supply company in Texas, focusing on automation and process flow. Bettenbrock is a first-generation college student who demonstrates a "positive attitude, driven work ethic and leadership abilities."
Jacob Rose, a senior in mechanical engineering technology, Salina, is the recipient of the Wildcat Pride Award for Dedication, which recognizes a student who goes above and beyond normal duties and is committed to a particular course of thought or action. Rose was nominated because "he personifies a student that is dedicated to his dreams, goals and helping others." Rose is involved in a variety of clubs and organizations, including SGA, Baja SAE, First Wave Wildcats and Association for Global Students, and is the most versatile student tutor on campus, helping his peers with subjects like economics, chemistry, math, writing, physics and engineering. Because the Polytechnic Campus does not currently offer language courses, Rose has taken it upon himself to study Japanese through a self-guided language course and as a result of this commitment, was able to study abroad at Kansai Gaidai University in Japan in 2017.
Mary Rodriguez, a graduating senior in social work, Salina, received the honor of the Wildcat Pride Award for Most Inspirational student. This award recognizes someone a student who inspires others to achieve the highest level at which they are capable, and epitomizes the qualities of determination, dedication and service. This student must also maintain a GPA of 2.5 or above. Rodriguez is a single mother who has been working two part-time jobs while earning her bachelor's degree. Her daughter also is attending K-State Polytechnic, and one of Rodriguez's missions while at college has been to set a good example for her family that anything can be achieved through hard work and determination. She is involved with the Social Work Wildcats campus club and has helped lead a fundraiser to benefit the local homeless population. Rodriguez has even applied and been accepted into the social work master's program at University of Missouri–Kansas City.
Below is a list of other winners from K-State Polytechnic's 32nd annual Awards and Recognition Banquet.
Outstanding Academic Student Awards
Outstanding Student Life Graduating Senior: Maxamillyan Badgett
Student Life Extraordinary Student Award: Sarah Welsch
Chemistry: Walson Liew
Expository Writing: Jordan Ross, Austin Kuhlman and JoonSeok Lee
Phi Kappa Phi: Matthew Haugh, Chris Jansen, Christopher Horton and Brad Tolliver
Aviation Maintenance Management: Richard Paul Grumbianin, Jr.
Computer Systems Technology: Nicholas Boyer
Digital Media Technology: Mary Ewers
Electronic and Computer Engineering Technology: Alec Cork
Human Development and Family Science: Kelci Krier
Mechanical Engineering Technology: Aaron Goodnight
Professional Pilot: Maddie Perry
Social Work: Gina Nelson-Fishel
Technology Management: Mehnaz Afrin and Tanner Wilson
UAS Flight and Operations: Caleb Scott
UAS Design and Integration: Jeremy Spink
Web Development Technology: Kyler Besher
SGA: Nic Ramirez, Christian Coker, Ben Schaub, Jay Li, Kooper Bardin, Hannah Schulte, Tanner Hawes, Adam Keefe, Keegan Swanson, Terry Adams, Nick Harries, Brett Whittington, RaeLynn Roe, Piyush Patil, Charles Bockhorn, Kyler Besher, Austin Kuhlman, and Shanna Walker
Residence Life: Parker Eberly, Cristina Duron, Maxamillyan Badgett, Jerad Jaros, Maddie Perry, Caleb Strahm, Nic Ramirez and JT Brantley
Peer Tutors: Nicholas Boyer, Christopher Jansen, Jacob Rose, Matthew Haugh and RaeLynn Roe
Peer Mentors: Cristina Duron, Ben Schaub, Maxamillyan Badgett, Shanna Walker, Nicole Johnson, and Juan Diaz
Writing Center: Jacob Rose, Sarah Byarlay, Jordan Ross, and Jackson MacLellan
Outstanding Campus Awards
Student Organization of the Year: Flight Team
Advisor/Faculty Mentor of the Year: Amy Sellers
Club Advisor of the Year: Ben Jaffee
Faculty Member(s) of the Year: Gayan Sam and David Burchfield
Outstanding Staff of the Year: Kathy Sanders
Student Employee of the Year: Mike Kuni
Larry Caldwell Good Sportsmanship: Satoru Okada