May 21, 2018
Aviation maintenance professor Andrew Smith selected for Kansas State Polytechnic's prestigious McArthur Award
Submitted by Communications and Marketing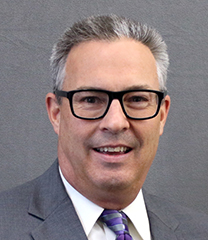 Andrew Smith, professor and option coordinator of the aviation maintenance management program on the Kansas State University Polytechnic Campus, is being recognized for his dedication both inside and outside of the classroom.
Kansas State Polytechnic has named Smith the recipient of the 2018 Rex McArthur Family Faculty Fellow Award. The honor is presented annually to a professor on the campus for teaching excellence, a commitment to research, and honorable service to the university, college and community. In addition to leading the aviation maintenance management program, Smith serves as the faculty advisor for three student clubs, sits on five campus committees and is a university ombudsperson. He also is a scoutmaster in his community and was recognized in 2017 by his industry — the Aviation Technician Education Council — as the Ivan D. Livi Aviation Maintenance Educator of the Year.

"I am humbled and grateful to receive this award, and I am thankful to those who nominated me," Smith said. "Working with college students keeps me challenged, connected and young at heart, and I truly enjoy helping them prepare for an exciting and rewarding career in aviation."

Before arriving at Kansas State Polytechnic in 2004, Smith was an aviation maintenance instructor for College of the Ozarks. He also taught aviation maintenance at LeTourneau University and was employed by American Airlines, first as an overhaul mechanic and then as a technical writer in maintenance planning. While at American Airlines, Smith was activated for Operation Desert Storm, supervising squadron personnel who performed maintenance on S-3 Vikings off the USS Nimitz deployed in the Pacific and Middle East regions. In total, Smith has more than 35 years of aircraft maintenance experience and has been teaching collegiate aviation for 25 years.

Smith earned an airframe and powerplant certificate and a bachelor's degree in aviation science from College of the Ozarks and has a master's in aviation safety from the University of Central Missouri. He operates his own aviation company and has earned his FAA inspection authorization. Smith is a designated mechanic examiner, a commercial pilot and certified flight instructor, an FAA Safety Team, or FAASTeam, representative and the Aircraft Owners and Pilots Association Airport Support Network representative for the Salina Regional Airport.

Smith and his wife, Lisa, have been married for 27 years and live in Lindsborg.