May 16, 2018
K-State takes reserve champion Sweepstakes Award at 2018 NACTA Judging Conference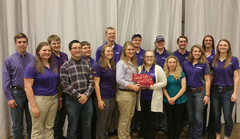 The combined placing of nine agricultural competition teams at the 2018 North American Colleges and Teachers of Agriculture, or NACTA, Judging Conference has earned Kansas State University reserve champion in the Sweepstakes Award for the four-year division. This was the first time that K-State has entered enough contests to qualify for the sweepstakes challenge.
The conference was hosted by Northeast Community College in Norfolk, Nebraska, in April. A total of 27 four-year and 16 two-year schools competed with 767 individual contestant entries in 13 different contest areas. K-State hosted the NACTA Judging Conference last April.
K-State teams placed first in Equine Judging and Precision Agriculture, second in Crops, Soils, Knowledge Bowl, Dairy Judging, Agriculture Sales/Communications, and Computer Applications, and third in Livestock Management. Several students competed on more than one team. Iowa State was the sweepstakes champion by a slim margin.
Kevin Donnelly served as coach for the Crops, Knowledge Bowl, Precision Ag, and Computer Applications teams. Mickey Ransom and Erin Bush coached the Soils team. The Equine Judging team was coached by James Lattimer and Rachel Sorensen. Jarrod Blackburn was the Dairy team coach and Audrey King coached the Ag Sales/Communications team.