August 1, 2012
K-State adds new service to aid work/life balance
Submitted by Communications and Marketing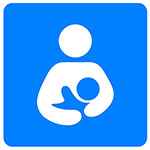 Nursing mothers on campus now have a designated place to express milk or nurse their child in private.
In a universitywide effort led by the President's Commission on the Status of Women and Women of K-State, six lactation stations have been established on the Manhattan campus, two stations at the Salina campus and one station at the Olathe campus.
K-State's lactation support for nursing mothers policy -- in accordance with the Patient Protection and Affordable Care Act that amended the Fair Labor Standards Act -- allows nursing mothers reasonable break time to express milk for their nursing child.
While supervisors may still need to find an accommodating location if a lactation station is not available, K-State has recognized the need for assigned areas that any woman -- student, visitor or employee -- on campus can utilize.
"Balancing work and family is a challenge, especially for women faculty, staff and students with young children," said Noel Schulz, university first lady and chair of the Women of K-State Leadership Committee. "These new stations provide privacy and show Kansas State University's commitment to a family-friendly campus."
All stations provide privacy for expressing milk, an electrical outlet, a table and a chair. Stations are marked with the international breastfeeding symbol of a mother holding a baby. The president's office provided funds for the renovations and Division of Facilities personnel performed the upgrades.
"I am very pleased with level of commitment I've seen from President Schulz and several other university administrators as well as the Division of Facilities for this project and many others that improve the lives of women on campus," said Stephanie Jacques, chair of the President's Commission on the Status of Women. "These rooms are just a sample of the university's efforts to help women balance their work and personal lives."
Locations include 016 Anderson Hall, 207A Willard Hall, 243A Leadership Studies, 202 Umberger Hall, 302 Umberger Hall and 113 Leasure Hall on the Manhattan campus; 117 Salina Technology Center and inside the Student Life Center female restroom at K-State Salina; and in Room 212 at K-State Olathe.
For more information on projects benefiting women, visit the President's Commission on the Status of Women website or visit the university guidelines in chapter 4075 of the Policies and Procedures manual.