July 10, 2012
Making connections: New office to strengthen partnerships with corporations
Submitted by Communications and Marketing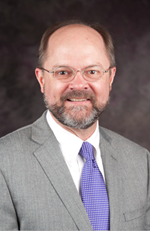 It may not seem like there is much of a connection between corporations and universities other than providing jobs to recent graduates. But the partnership is so symbiotic that Kansas State University has created a new office to foster the relationship.
Richard Potter is settling into his role as the university's corporate engagement manager in the new office of corporate engagement. The office, in the university's research park, will coordinate engagement with the three campuses -- Manhattan, Salina and Olathe -- and the Kansas State University Foundation to enhance partnerships with corporations.
"There's a lot that industry and higher education have to offer each other," Potter said. "My role is to be the connector."
During Potter's 30 years of experience, most of which has been spent working in academia, he has formed partnerships with companies like IBM, American Express and Coca-Cola. Now, he is looking to form more connections that will benefit both the companies and Kansas State University.
He recently met with Caterpillar Work Tools in Wamego, where one of the company's goals is to provide more education to its employees.
"They want to help their employees continue their education and they know that's a key to employee retention," Potter said.
It's a goal Potter thinks is a perfect fit for the university's Division of Continuing Education.
The university and corporations can join forces in several other areas, too, Potter said. For example, K-State can provide research and the corporations can provide funding. The partnership could also mean scholarship money as well as internships. That means helping a corporation meet its strategic goal can also help the university reach its own.
"One of the goals of K-State 2025 is to engage more undergraduates in research," Potter said of a university-corporation research partnership.
While his sights are set on the future, Potter is still getting used to his present new home in the Little Apple -- a place he often heard about from his parents.
Both of his parents are Kansas State University graduates but work led them to Iowa, where Potter grew up hearing stories about the Wildcats. He never stepped foot on the Kansas State University campus until recently when he interviewed for the corporate engagement manager position.
His family has always bled purple, so it was a delight to his parents to find out he was carrying on the tradition, in his own way.
"Both of them were really tickled when I got the job," Potter said.