July 6, 2012
Letter from Athletics Director John Currie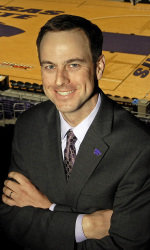 Good Morning, K-State Nation!
I
trust you enjoyed a safe and enjoyable Fourth of July. Our family
enjoyed a full day of activities here in Manhattan capped off by some
incredible fireworks displays around town!
Supposedly the summer used to be a time when things slowed down, but here at K-State we have a great deal of action ongoing about which I want to bring you up to speed. As I pulled into the parking lot

this morning

,
various excavators, back-hoes and dump-trucks were already prowling the
site of the West Stadium Center at Bill Snyder Family Stadium.
Speaking
of the West Stadium Center, we are humbled to announce that K-Staters have
responded to the $5 million anonymous challenge pledge announced earlier
this spring, matching and exceeding that amount, now pushing total
funds committed to the project to over $53 million towards the total
goal of $75 million!
I
am pleased to report that for the third straight year we will have
achieved a balanced budget when we finish closing the books for FY12
later this summer and in fact will be able to report that revenues have exceeded expenses for the third consecutive year.
Through your support and participation as ticket holders, another record
year for the Ahearn Fund (more on that later), and the excitement
generated by the performances of Wildcat student-athletes, we have been able to fulfill the promise of fiscal integrity and transparency
that we made three years ago.
As I have said many times, the
grassroots support of our fans provides us a unique advantage and
nothing reflects that any more than when you make it to Manhattan to be a
part of capacity crowds at Bill Snyder Family Stadium, Bramlage Coliseum, Ahearn Field
House, Tointon Family Stadium and all of our other venues.
In
keeping with our pledge for transparency, I am also pleased to share
with you our projected revenue and expense budget for FY13, which has
been approved by the Board of Directors of K-State Athletics Inc.
(KSA). Thanks to your support we are able to continue to re-invest in the student-athlete experience for all 16 of our teams as well as make
steps to achieve our goal of having the best fan experience in the Big
12.
KSA's operating
budget of $58 million for the 2012-13 fiscal year will be the largest
in school history and represent a 12.7 percent increase from FY12.
Among other items, the budgeted operational increase for FY13
(approximately $6.58 million) accounts for expenses such as scholarships; compensation
increases for coaches; various facility enhancement projects; an
increase in our debt service facilitating construction of the West
Stadium Center and Basketball Training Facility, as well as additional
upgrades to our K-StateHD.TV video production capacity as we continue to explore ways to promote our
teams and student-athletes to our worldwide Wildcat family.
It is
important to note that this operational budget of $58 million does not
include our capital fundraising revenue (i.e. gifts specifically for the
Basketball Training Facility and West Stadium Center) as well as construction costs
paid specifically from those capital funds.
Here are some specific examples of your dollars in action in
support of our five core goals of our vision of a Model Intercollegiate
Athletics Program:
·
To progress towards our goals of "A World-Class Student-Athlete Experience" and "Championship-Level Athletic Performances,"
we have been able to increase our sports operating and recruiting budget
by 18 percent since FY10.
The majority of this increase has been to fund
salary and compensation increases for our coaching staffs.
Travel costs continue to increase as well.
For example, this coming
football season we will have five round-trip charters for our football
team versus 3.5 in 2011.
·
You
will notice that our net game guarantee costs (the money we spend to
have non-conference football, basketball, volleyball and baseball games in Manhattan) have increased significantly, roughly doubling vs.
last year and increasing by nearly $2 million since FY10.
After
inheriting schedules with just six home football games in 2009 and 2010,
we returned to seven games last year and appear to be in a pattern now
where seven games can be the norm, although we will have eight in 2013.
Playing
contests in Manhattan certainly helps our competitive desires as well as
addresses our goal of providing "Value to the University, Community and State."
·
Our $5 million facilities maintenance line-item includes a major resurfacing of the east parking lot at Bill Snyder Family Stadium scheduled for spring 2013, helping to achieve "The Best Fan Experience in the Big 12," as well as student-athlete experience upgrades such as a new rowing practice facility which continues our commitment to Title IX and history of expanding opportunities for female student-athletes.
·
Direct
university support of intercollegiate athletics drops to $750,000, or
1.29 percent of the budget in FY13, as we continue our phase-out program to
enable those dollars to be used for critical academic needs in support of President Schulz's visionary K-State 2025 goal of
being a Top-50 public research university.
In
addition to our ongoing focus on efficiency, we will continue to target
growth in the Ahearn Fund and ticket sales, as well as Big 12 revenue
growth, as the primary revenue offsets to again achieve a balanced
budget in fiscal year 2013.
Collectively the individual Ahearn Fund contributions and ticket purchases by our fans make up 51 percent
of our revenue while 32.6 percent of our FY13 budget will come from the Big
12/NCAA.
Obviously, we are very excited about the future we have in the
Big 12 Conference and are experiencing growth due to the Big 12's
television, bowl and other contracts. TCU and West Virginia officially joined the
conference this past

Sunday

and with the Champions Bowl alliance with the SEC, along with our
established place in the post-season football play-off discussion, the
Big 12's trajectory is solid.
We
continue to work every single day to provide our 440-plus
student-athletes a world-class experience while also striving for
championship-level athletic performances. Again the individual private
support such as ticket purchases and contributions to the Ahearn Fund continues to
be the winning edge for K-State.
We are grateful for your
participation and will continue to honor you with careful stewardship of
the dollars you entrust to K-State Athletics.
Here are some additional
updates from this busy summer!
Watkins Makes Run at U.S. Open
Former
K-State golfer Aaron Watkins wasn't content with just making the cut at
the recent 2012 U.S. Open in San Francisco as he went on to finish in a
tie for 15th place, ahead of many big-name PGA professionals
such as Tiger Woods, Matt Kuchar and Rickie Fowler.
I enjoyed watching Aaron on
national television over the course of the weekend, especially seeing
him don his K-State purple during

Thursday

's opening round.
Congrats to Aaron on a fine performance and for representing K-State with such class.
NCAA Champ and London Bound!
High
jumper Erik Kynard not only defended his NCAA Outdoor high jump title
earlier in June by leaping 7-feet, 8-inches in Des Moines, Iowa, but he
followed that up with a strong performance at the U.S. Olympic trials
two weeks ago in Eugene, Ore.
With his second-place finish at the trials, he earned a spot on the Team USA
roster for the London games in August!
To have a current
student-athlete in the Olympic Games is yet another testament to the
leadership and reputation that Coach Rovelto has in the track
and field world
.
In fact, all
three high jumpers to make the U.S. team are tutored by Coach Rovelto, a
feat that has never happened in U.S. high jump history.
In addition to
Kynard, Wildcat Nation will also be rooting for Jeffrey Julmis of Haiti (110-hurdles), Beverly Ramos of Puerto Rico (3,000 steeplechase), Korene
Hinds of Jamaica (3,000 steeplechase), plus Austra Skujyte of Lithuania
(heptathlon) – all of whom earned a spot on their respective Olympic
rosters.
Good luck to all of these Wildcats in London!
Another Wildcat to Lead Big 12 SAAC
For
the second straight year a K-State student-athlete was elected to serve
as the Big 12 SAAC Vice Chair.
At last month's Big 12 SAAC
Meeting/Leadership Summit in Lubbock, men's golfer David Klaudt was
chosen to lead the group in 2012-13 and will take over for Victor Ojeleye, who served in this role for 2011-12.
All six of our
student-athletes who attended this event – Tre Walker (football), Sam
McKnight (track and field), Brian Rohleder (men's basketball), Aly
Bronder (rowing), Kathleen Ludwig (volleyball) and David – had a terrific time learning, enhancing leadership qualities and interacting
with their fellow Big 12 counterparts.
K-State Student Goes Viral on YouTube
For those who have not seen this, click here for
the story of senior agricultural communications and journalism student
Greg Peterson and how he and his two brothers used social media to promote not only his industry but also K-State.
As of

today

, more than 3.1 million people had viewed his video, "I'm Farming and I Grow It."
K-Staters Step Up Again, Set New Total Giving Mark
And
speaking of the Ahearn Fund, our fans, alumni and friends stepped up once again in financial support of our student-athletes this year to
set a new record of $25.8 million for total gifts to the department, a
number that has doubled since FY2009.
Thanks to the grass-roots support
of K-State fans world-wide,
Ahearn Fund membership also grew by 12 percent to finish the year at an all-time high of 7,866.
If
you are not already a member, please consider joining the Ahearn Fund
for as little as $50 per year.
These gifts are designated for
scholarships, sports medicine, academic support, modernization of facilities and other services that directly
benefit all of our student-athletes while also funding our margin of
excellence through enhancements such as recruiting budgets and coaches
salaries.
And How 'Bout That Catbacker Tour!
K-State
support is exemplified during the annual Catbacker tour, and this year has been one
of the best ever.
With 29 events complete and just a few to go, over
6,000 Wildcat fans have attended this year, hearing from terrific
K-State coaches and student-athletes.
It's a great cooperative venture between local Catbacker groups, the K-State Alumni Association and
K-State Athletics.
Special thanks to Lon Floyd, Wyatt Thompson, Mike
Clark and Gavin Hargrave for their leadership out on the "circuit" in
addition to all of the coaches, student-athletes and local Catbacker
club volunteers for their time and hard work this summer.
Most universities
are down to just a handful of events, but the spirit at K-State is
stronger than ever!
That will do it for

today

.
Enjoy your July, but with both our basketball teams back in their
summer workout regimen and Coach Weber's team beginning its NCAA-allowed
10 special practices in advance of a trip to Brazil in August — as well as Big 12 football media days coming up on

July 23

— remember that another exciting year of K-State Athletics is just around the corner!
Thanks for all that you do to support your K-State student-athletes.
Go Cats!

John Currie