June 21, 2012
Honoring a remarkable journey: The Ralph Webb Memorial Scholarship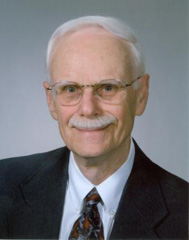 Born on a small family farm near Osawatomie in Parker, Kan., at the height of the Great Depression, Ralph Webb knew the meaning of perseverance from the moment he entered the world. Between a series of cross-country moves, financial hardship and surviving a near-death experience as a teenager, the challenges he faced in his early years served as his motivation to create a better life.
His brother, John, was the first person in their family to go to college, and Ralph Webb knew that an education was the key to a better future. John Webb graduated from Kansas State University in 1954 — but Ralph Webb wasn't far behind, earning his bachelor's degree in mechanical engineering and graduating with honors from K-State in 1957.
A member of Air Force ROTC, he was shipped off to a U.S. Air Force base in Las Vegas, Nev., where he managed a jet engine repair hanger. Following military service, he earned a master's degree from Rensselaer Polytechnic Institute in New York, a doctorate from the University of Minnesota, and then began a career with The Trane Company in La Crosse, Wis., where he oversaw their heat transfer research program for 14 years.
He joined the department of mechanical engineering at Penn State University in 1977, where he would work until his retirement. During his tenure at Penn State, he pioneered research in the field of enhanced heat transfer, authored the widely-used text Principles of Enhanced Heat Transfer, founded the Journal of Enhanced Heat Transfer and guided to graduation 49 master's and 17 doctoral students, all while earning several awards and accolades along the way.
In 1984 he married Sylvia Apple, with whom he'd spend the next 27 years until his passing in 2011. To honor her husband and his accomplishments, Apple established an endowed scholarship in his name in the department of mechanical and nuclear engineering at K-State — where his remarkable journey began.
Apple, who lives in State College, Pa., recently shared reflections on her husband's life, his legacy and what it means to honor him with the Ralph Webb Memorial Scholarship in the K-State College of Engineering.
Talk about your life with Ralph.
Ralph was amazing and full of energy. We loved to travel. He gave lectures and went to conferences all over the world, and I was fortunate to go with him. In fact, this summer, there will be a special session given in his honor at the American Society of Mechanical Engineers annual summer meeting in Puerto Rico.
I wrote a book about our life out in the country with our dog, "Fergus: Memoirs of a Scottish Terrier." It has a lot of wonderful stories about Ralph, including a story about the noises and events associated with his favorite hobby — restoring clocks. At one point, we counted that we had more than 100 clocks around our home. We were passionate about our home. We lived there for 11 years.
What impact do you wish for this scholarship to have at K-State?
I think it's good for people to know that someone who's struggling is sometimes the very person who's working hard and has the tenacity to go on and do great things, much like Ralph did. It's an open scholarship and a number of his former students have contributed to it. I want students to know that there are many people who know they're working hard and want to help them reach their goals.
What was the experience like making this gift in Ralph's honor?
It's a wonderful feeling; a way of keeping his legacy alive. It makes me feel as though it's exactly what he would have wanted to happen. I feel like I was prompted from somewhere beyond to do this. I think wherever he is, he's probably happy about it, and I am happier having done this for him.