February 21, 2018
National Society of Black Engineers to host annual Engineering a Dream event March 10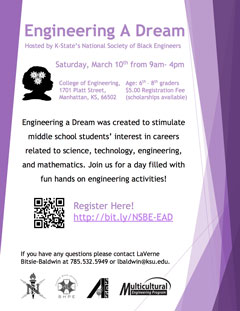 Come join National Society of Black Engineers, a registered student organization, from 9 a.m. to 4 p.m. Saturday, March 10, at the Engineering Complex for its annual Engineering a Dream event.
This event is for all children in sixth, seventh and eighth grades. The society will have food and fun STEM-related activities.
To register, use the link on the event flier.