February 12, 2018
Tyjaun Lee to present Boyer/Switzer Lecture Feb. 23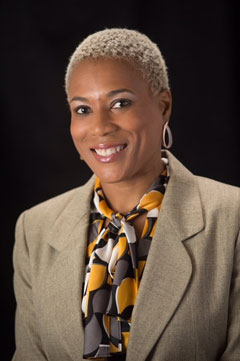 The Black Faculty and Staff Alliance announces the revitalization of the Boyer/Switzer Lecture Series, which began in 2014, to honor two K-State and Manhattan legends, Rev. James Boyer and Veryl Switzer.
Join us at noon Friday, Feb. 23, in the Bluemont Room of the K-State Student Union for the Boyer/Switzer Lecture Series and Luncheon for what is sure to be an inspiring and catalytic presentation. The luncheon is free to all; however, you must RSVP as seating is limited. Walk-ins will only be allowed if we have not reached capacity. Please confirm your attendance online or by contacting Deanne Woodard at deannewoodard@k-state.edu by Wednesday, Feb. 21.
The guest speaker will be Tyjaun Lee, who currently serves as president of Penn Valley at Metropolitan Community College in Kansas City. She brings a wealth of knowledge and experience in higher education and has been nationally recognized for her exceptional leadership capabilities and her work with underrepresented and underprivileged students. Her presentation, "Being Brown in 2018," will address current diversity issues and how we can face them head on.
We are excited to have Lee as the first speaker as we continue the legacy of Rev. Boyer and Switzer. These two men have generously shared their passion and wisdom with the K-State and Manhattan communities over many years. Their commitment to diversity and inclusion have laid the foundation for the work we must continue to do, and they continue to inspire new generations to improve the community and world in which we live.
Rev. Boyer was hired to teach graduate courses at K-State in the College of Education in 1971. He earned his Bachelor of Science from Bethune-Cookman College, a Master of Education in school administration from Florida A&M University, and a doctorate from Ohio State University.
Rev. Boyer saw himself as the spearhead for diversity. He brought to light the fact that there were only two female professors teaching a primarily female student body; he spoke to university faculty and administrators about recruiting a more diverse faculty; and he created courses addressing teaching students of diversity including the education of African-Americans.
While doing all of this, he also helped establish and implement the K-State Cooperative Urban Teacher Education master's degree program in the Greater Kansas City area. He drove to Kansas City every Monday night for 18 years, in all sorts of weather, to teach a class and then drive back to Manhattan. Rev. Boyer died in May 2017 leaving a legacy of greatness for us all.
Switzer, born in 1932 in Nicodemus, Kansas, was the son of Fred and Ora Switzer and descendent Zach Fletcher, one of the first settlers in Nicodemus. Switzer was a standout football and track star in high school and at K-State. He spent a decade working at the Chicago Board of Education before returning to K-State in an administrative capacity in 1969. He held several positions, both in the academic and athletic departments before retiring.
Switzer has maintained his ties to Nicodemus. In 2009, the Veryl Switzer Back to History Camp was established for youth to spend a week visiting both K-State and Nicodemus. Switzer has been a leader at K-State for three decades. One of the things he started at K-State was the Veryl and Fern Switzer Campus Leadership Award for a student athlete who is involved in student organizations and multicultural affairs, demonstrates leadership on a team, a campus and is active in community service.