February 5, 2018
Veterinary researcher collaborates with Johns Hopkins team on Parkinson's disease publication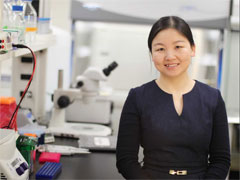 A new journal publication by a Kansas State University researcher is focusing on a transgenic solution for tackling Parkinson's disease.
"Parkinson's disease is recognized as the most common movement disorder, affecting up to 1 percent of the population above the age of 60 and 4-5 percent above the age of 85," said Yulan Xiong, an assistant professor in the anatomy and physiology department in the College of Veterinary Medicine. "According to the National Institutes of Health, 1 million people in the United States are suffering from Parkinson's disease. Unfortunately, there is no cure or proven disease modifying therapy for this disease."
Xiong explained how Parkinson's disease is caused by a combination of risk factors including environmental exposure, age and a positive family history for disease.
"Several genes have been unambiguously identified from the families with heritable Parkinson's disease," Xiong said. "Mutations in a gene identified as LRRK2 account for up to 40 to 50 percent of Parkinson's disease in certain populations and are the most known common causes for Parkinson's disease. The importance of LRRK2 in Parkinson's disease suggests that developing research models of LRRK2 is warranted to study the disease's pathogenesis."
Xiong's new research article appeared online Jan. 31 in the journal, Proceedings of the National Academy of Sciences: "Robust kinase- and age-dependent dopaminergic and norepinephrine neurodegeneration in LRRK2 G2019S transgenic mice." As the leading author and a corresponding author, Xiong collaborated with research partners Valina Dawson, professor of neurology at Johns Hopkins and Ted Dawson, director of the Institute for Cell Engineering at the Johns Hopkins University School of Medicine, Baltimore, Maryland. This was where Xiong began her work as a postdoctoral fellow and then as an assistant professor. Xiong has continued her research at Kansas State University as a collaboration between the two schools.
"In this paper, we report the development of new models that express LRRK2 in catecholaminergic neurons, and show how LRRK2 mediated loss of neurons is kinase dependent and can occur in a cell autonomous manner," Xiong said. "These new LRRK2 models have the potential to advance our understanding of mutant LRRK2 mediated degeneration of dopamine neurons. This is an important platform for investigating the molecular mechanisms for how dopamine neurons degenerate due to expression of mutant LRRK2."
Funding resources: The National Institutes of Health, the National institute on Aging, the National Institute of Neurological Disorders and Stroke, National Science Foundation, the William N. and Bernice E. Bumpus Foundation, American Parkinson Disease Association, the JPB Foundation, Thomas Shortman Training Fund, Axol Science, Kansas INBRE, Johnson Cancer Research Center at Kansas State University, Kansas State University College of Veterinary Medicine.