February 1, 2018
Doc's Ukulele Orchestra features K-State faculty and friends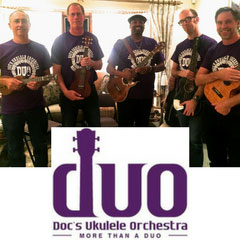 Doc's Ukulele Orchestra takes the stage as part of the BirdHouse Fine Acoustic Music Series at 7:30 p.m. Friday, Feb. 9, at the Manhattan Arts Center. DUO is an eclectic group with a unique sound and centered around having fun.
The orchestra was born when Wayne Goins, university distinguished professor and director of jazz studies, was interviewing Taj Mahal for an upcoming book. Seeing Mahal playing uke inspired Goins, who decided that a five-man uke band could be unique for Kansas and great fun with the right people. The orchestra blends the talent of five musicians from vastly different backgrounds — Goins, Kevin Peirce, Robert Rosenberg, Rick Smith and Brian Niehoff — and the sound of five different sizes of ukulele — soprano, concert, tenor, baritone and bass — to create a new twist on a mixture of tunes from multiple genres — classic rock, Scotch-Irish-Canadian folk, R&B, jazz, and even some show tunes.
Tickets are $18 for adults and $11 for military, students and children. Tickets are available online, in office from noon to 5:30 p.m. Monday-Friday; use your Pocket Points., or by phone at 785-537-4420.