January 25, 2018
Martin Luther King III lecture and Laying of the Wreaths ceremony today
Submitted by Division of Communications and Marketing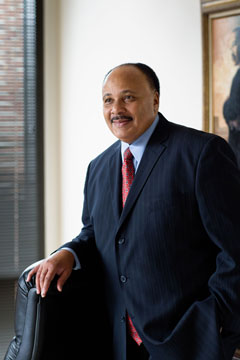 Martin Luther King III will present a lecture Thursday, Jan. 25, in Forum Hall of the K-State Student Union. Admission is by ticket only. The doors will open at 11:30 a.m. and the event will start promptly at 12:30 p.m. A candlelight vigil will follow the lecture.
Adequate security measures have been implemented and metal detectors will be in use. Attendees will not be allowed to bring backpacks or purses into the lecture. Possession of weapons, including the concealed carrying of handguns, is prohibited at this event. Attendees should arrive as soon as possible to avoid possible delays.
Video streaming of the event will be available only in overflow spaces in the K-State Alumni Center's Ballroom and the Union's courtyard.
The Laying of the Wreaths ceremony will follow the lecture and candlelight vigil at 2 p.m. at the Martin Luther King Jr. Bust, near the southeast corner of Ahearn Field House.