June 7, 2012
K-State students address local environmental issues at Sunset Zoo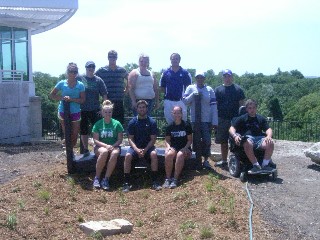 Seven K-State students are completing a three-week summer intersession course, Environmental Leadership, at Sunset Zoo this week by engaging in hands-on service learning.
The students are constructing a portion of the outdoor Nature Play Space that is part of the new Nature Exploration Center at the Zoo's entryway. The play space features a rain garden and eco-friendly playground equipment aimed at teaching youth ways to address water resource issues.
The project is a collaboration between K-State's Center for Engagement and Community Development, School of Leadership Studies and department of communications and agricultural education, K-State Research and Extension's Kansas Environmental Leadership Program and the Sunset Zoo.
The project is funded through a $114,000 grant from the U.S. Department of Agriculture and inspired by the Kansas Environmental Leadership Program.