June 4, 2012
Letter from A.D. John Currie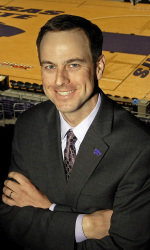 Good Morning, K-State Nation!
On this Monday morning let's preview the coming week and also look back at a few highlights from the last several days.
NCAA Track and Field anchors K-State's 2011-12 athletics year
With Petra Niedermayerova's fine season ending last week in the NCAA Tennis Sweet 16 round, K-State's tremendous-across-the-board athletics year is now down to eight outstanding track and field student-athletes who will compete in the NCAA Championship meet in Des Moines, including Erik Kynard and Ryann Krais who will be defending their 2011 NCAA titles. Here's a rundown of the Wildcats' schedule this week:
Wednesday
Noon: Decathlon Day 1 – Tomas Kirielius
5:30 p.m. Long Jump – Mantas Silkauskas
5:30 p.m. Discus – Jacquelyne Leffler
6:30 p.m. 800m – Boglarka Bozzay
Thursday
11:30 a.m. start: Decathlon Day 2 – Kirielius
1:00 p.m. start: Heptathlon Day 1 – Ryann Krais, Mairead Murphy
5:30 p.m. High Jump – Erik Kynard
Friday
3 p.m. start: Heptathlon Day 2 – Krais, Murphy
4:30 p.m. Pole Vault – Kyle Wait
6:20 p.m. 800m Final
Be sure and follow the results via www.kstatesports.com and on Twitter (@kstate_gameday).
Big times for the Big 12
Most of my week last week was of course spent in Kansas City at the annual spring Big 12 meetings. The three "governance groups", Faculty Athletics Representatives (FARs), Senior Woman Administrators (SWA's) and the AD's meet individually and collectively to discuss the various operational business matters of the conference and then jointly with the Board of Directors (the presidents and chancellors) of the conference on Thursday afternoon. Then the Board continued with its official meeting Thursday evening and Friday morning.
Naturally lots of attention is on items such as television, the future of post-season football, etc., but we had plenty of standard business to consider, affecting the experience of many student-athletes.
There is no question that the atmosphere and sense of optimism surrounding the league is totally different than the past two spring meeting editions. Record revenue distribution to our member institutions, the recent announcement of the new "Champions Bowl" agreement with the Southeastern Conference, the arrival of incoming commissioner Bob Bowlsby and the extension of the men's basketball tournament in Kansas City through 2016 are all big steps forward for the Big 12 and very important for K-State.
At the same time, just like our coaches and student-athletes build on success, we've got to continue to take advantage of this opportunity as we position K-State for the future. For example, it was awesome to see construction machinery out on the job site Friday preparing to excavate the utility relocation trench as the West Stadium Center project gets under way!
Victor Ojeleye wins Arthur Ashe Jr. Award
In case you missed it last week, Victor Ojeleye was named the male winner of the 2012 Arthur Ashe Jr. Sports Scholar Award by Diverse: Issues in Higher Education magazine and the NCAA. This is a prestigious national honor for both Victor and K-State – last year's winner was Heisman Trophy recipient Robert Griffin III and other past winners include ESPN's Kara Lawson. Victor exemplifies the term student-athlete and has represented Kansas State University with the utmost dignity and class throughout his academic and athletic career. Without question his selfless leadership and support of his teammates and coaches has played a major role in our on-court success over his career, and we are all very proud of his accomplishments. Click here for the full release and also a story from Mark Janssen on Victor.
Academic awards roll in, including 202 Wildcats named to spring honor roll
The Big 12 released its 2012 Spring Commissioner's Honor Roll on Wednesday with a total of 202 Wildcats making the list with 3.0 or higher GPA, including 50 who registered a GPA of 4.0 in the spring semester. Also, Ryann Krais, who will be competing at next week's NCAA Track and Field Championships, was named Academic All-District, while nine rowers -- Kaitlyn Arrow, Weatherly Butler, Allison Dorau, Danielle Glynn, Lea Hauldren, Adria Ley, Traci Smiley, Amanda Weishaar and Hanna Wiltfong – were named Collegiate Rowing Coaches Association Scholar Athletes. I am proud of our student-athletes for their commitment to both academic and athletic success and appreciate their dedication and enthusiasm.
Single game football tickets available Wednesday
Thanks to K-State fans everywhere, there is great momentum towards the goal of filling Bill Snyder Family Stadium for every game in 2012. While season tickets remain available -- and we are closing in
on a record number of public sales -- single game tickets for our seven football contests will go on sale Wednesday in an exclusive online sale only at www.k-statesports.com, including match-ups with Miami Hurricanes from the ACC and Big 12 contests against KU, Texas and Oklahoma State. Fans can begin purchasing tickets in person or via telephone through the K-State Athletics Ticket Office at 8:30 a.m. on Monday, June 11. Click here for more information and let's "Fill the Bill" for what is sure to be an exciting season.
Reserve your spot in Ahearn for volleyball season
After one of the most successful volleyball seasons in K-State history, which included an exciting run to the NCAA Sweet 16, Coach Fritz and her squad are eager for the 2012 campaign as every starter returns from 2011. Reserve your seat today in newly-painted (and purple!) Ahearn Field House as season tickets for 15 home matches are available. Click here for more details.
Ahearn Fund hits 8,000 members!
Special thanks and welcome Gary Horner of El Dorado who joined the Ahearn Fund last week and became our 8,000th member. Great strides have been made in growing our Ahearn Fund as EVERY member makes a difference in providing our student-athletes a world-class experience. Who wants to be No.'s 8,001 and beyond? Contact the Ahearn Fund at 888-232-9074 and join for as little as $50.
Have a great week and as always thanks to each and every K-Stater worldwide for taking a personal interest in the success and growth of the entire University and of course your Wildcat student-athletes!
Go Cats!

John Currie