December 8, 2017
College of Veterinary Medicine's Brian Lubbers to chair international standards committee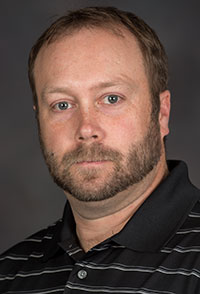 Brian Lubbers, director of clinical microbiology in the College of Veterinary Medicine at Kansas State University, will begin his appointment as the chairholder of the Clinical Laboratory Standards Institute's, or CLSI's, Subcommittee on Veterinary Antimicrobial Susceptibility Testing, or VAST, in January.
The institute's members and volunteers represent three sectors of the health care field: industry, government, and the health care professions. Representation of the three constituencies is balanced in order to support an open consensus process. Subcommittee volunteers represent all three sectors, including microbiology laboratories, government agencies, and pharmaceutical and diagnostic microbiology industries. Health care providers and educators are also represented, and current members are from the U.S., Canada, Europe and Australia.
"The CLSI-VAST committee is central in moving international antimicrobial stewardship efforts forward," Lubbers said. "This committee is responsible for developing the breakpoints used by diagnostic laboratories for susceptibility testing of veterinary pathogens. It is a tremendous honor to be appointed subcommittee chairholder, and I look forward to continuing the efforts initiated by the previous VAST leadership."
"Dr. Lubbers has a vital leadership role in the creation of essential standards used to combat a top global public health problem in the word today — resistance to available antibiotics," said Glen Fine, the institute's CEO. "CLSI has long recognized the value of the 'One Health' approach to this issue and has been developing laboratory standards for antimicrobial susceptibility testing in veterinary medicine for over 25 years. Dr. Lubbers' experience and expertise as a veterinary clinician, diagnostician and pharmacologist will allow us to continue advancing these antibiotic stewardship efforts."
Responsibilities of the Subcommittee on Veterinary Antimicrobial Susceptibility Testing include:
Develop standard reference methods for antimicrobial susceptibility tests.
Provide quality control parameters for standard test methods.
Establish breakpoints and interpretive categories for the results of standard antimicrobial susceptibility tests performed on veterinary pathogens.
Provide suggestions for testing and reporting strategies that are clinically relevant and cost-effective.
Continually refine standards through development of new or revised methods, breakpoints, interpretive categories, and quality control parameters.
Educate users through multimedia communication of standards and guidelines.
Foster a dialogue with users of these methods and those who apply them.
The institute is a not-for-profit membership organization accredited by the American National Standards Institute as a standards development organization. The institute brings together the global laboratory community for the advancement of a common cause: to foster excellence in laboratory medicine. It is headquartered in Wayne, Pennsylvania.