November 4, 2011
Teleconference with Dave Eggers Tuesday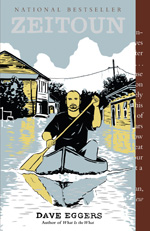 The K-State Book Network will host a teleconference with Dave Eggers, author of "Zeitoun," from 6-7 p.m. Tuesday, Nov. 8.
The interview, conducted over Skype, will be in Town Hall in the Leadership Studies Building.
During the interview, Eggers will share how he first met the Zeitouns, why he wanted to tell their story, what he learned about police response to Katrina, and how he decided to craft the book's narrative. Audience members can ask Eggers their questions during the Q&A that follows the interview.
Eggers' book was selected by K-State Book Network for this year's university common read. It tells the true story of Zeitoun, a Syrian immigrant, and his experiences during the lead up to and aftermath of Hurricane Katrina.
The teleconference is sponsored by the K-State Book Network and K-State First. For more information, visit http://www.k-state.edu/ksbn/ or contact ksbn@k-state.edu.