November 27, 2017
Grow your mind . . . and eat pizza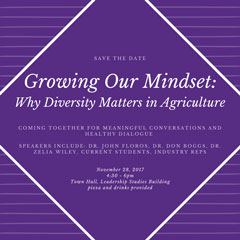 To continue dialogue to unify K-Staters, the College of Agriculture student leadership is presenting a student-led diversity forum, "Growing our Mindset: Why Diversity Matters in the Agriculture," from 4:30-6 p.m. Tuesday, Nov. 28, in Town Hall of the Leadership Studies Building. Refreshments, pizza and panel presentations from students, faculty, staff and corporate representatives, including Cargill, will be available.
In partnership with the College of Agriculture administration and its diversity programs office, student leaders are eager for this dialogue on diversity. The student leadership includes Ag Student Council President Lane Nichols; Ag senators Carlos Flores, Lacy Pitts, Jansen Penny, Nils Bergsten, Aaron Hendrickson, Emily Zwick and Sarah Niederee; Ag Ambassadors Will Morland, Tara Cook and Aubrey Davis; MANRRS President Makinsey McIntosh; and many more.
This event promises to be engaging and impactful, but will only be great with many participating. It is an opportunity for K-Staters to stand together as faculty, staff and students to promote unity and create positive action. The leadership's overall goal from the forum is to increase the awareness of diversity for practical success at the university and make sure all students, faculty and staff feel included in the K-State family.
If you have any questions or comments, please contact Zelia Wiley at zwiley@k-state.edu or 785-532-5793.