November 21, 2017
K-State and Manhattan communities participate in Reads to Preschoolers initiative
Submitted by Division of Communications and Marketing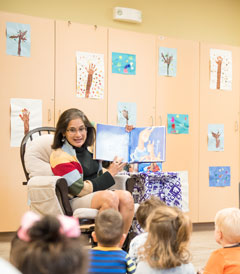 Members of the K-State and Manhattan communities joined together to participate in the State Library of Kansas' annual Reads to Preschoolers initiative to encourage early childhood literacy, Nov. 13-17, at the Center for Child Development.
Each year as part of the initiative, a children's book is selected and shared in libraries, preschools, homes and child care centers alike throughout the month of November.
This year's selection, "The Napping House" by Audrey Wood, marks K-State Libraries' 13th annual event. The cumulative story of a granny, child, dog and cat piling into the same cozy bed for a nap won a handful of awards from 1984-1987.
At the center, toddlers and preschoolers have been included in story time, which contributes to the event's goal that children from birth to age 5 be read to in November.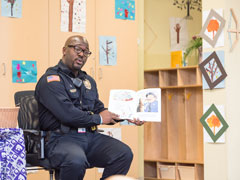 Community guests attended the celebration of reading. Among the crowd was first lady Mary Jo Myers, Mayor Linda Morse, the Manhattan Fire Department, the K-State Police Department and Usha Reddi from the Manhattan City Council. K-State student-athlete volunteers also showed their support by reading to the children.
"The student-athletes have done a wonderful job and the children have loved having them here," said Paula Moseley, assistant director of fiscal management at the Center for Child Development. "I think it is beneficial for the student athletes and coaches as well to see our center's footprint throughout the campus."