May 18, 2012
Recent publications, presentations by faculty in English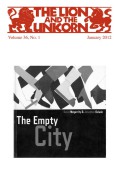 Four faculty members in English recently published their work:
Elizabeth Dodd, university distinguished professor, published the essay "Isogloss: Language and Legacy on Mount St. Helens" in the journal "The Georgia Review," spring 2012).
Joe Sutliff Sanders, assistant professor, published the essay "To Allude or to, Like, Not" in "The Comics Forum," April 2012, at <http://comicsforum.org/2012/04/13/to-allude-or-to-like-not-by-joe-sutliff-sanders/>.
Karin Westman, department head, and Naomi Wood, associate professor, published volume 36.1, 2012, of the journal "The Lion and the Unicorn," with colleague and co-editor David Russell.
Naomi Wood published the essay "Angelic, Atavistic, Human: The Child of the Victorian Period (1837-1901)," in the edited collection "The Child in British Literature," 2012.
Five faculty members in English recently presented their work as conference papers, invited talks or invited readings:
Elizabeth Dodd was a visiting writer at Emporia State University on April 20.
Michele Janette, associate professor and head of women's studies, presented "Mỹ Việt: Literary Anthology as Intervention in Politics of Represen-tation of Vietnam" on the panel "Choosing to Tell Vietnam and America," which she also chaired, at the Association of Asian American Studies Conference in Washington, D.C., on April 11. Janette's film, "She Told Me Stories," was screened at Washburn University on March 28. The film was co-created by Janette, Gabriela Diaz de Sabates, Sue Zschoche and others.
Katherine Karlin, assistant professor, held a reading at the Associated Writing Programs Conference in Chicago on March 2. Karlin also served as a panelist for "Tales from the Trenches: Teaching the Novel and Novella."
Wendy Matlock, assistant professor, presented "Medieval Debate Poetry: Genre or 'Literary-Historical Illusion'?" at the Rocky Mountain Medieval and Renaissance Association Conference in Pocatello, Idaho, on April 13.
Deborah Murray, director of the Writing Center, presented the workshop "Concise, Quotable, & Compelling: How to Make 'Making a Difference' Fun" at the Adult Development and Aging Program Focus Retreat for K-State Research and Extension in Hesston on April 18.