November 13, 2017
'Global Conversation with Kansas State University's First Lady Mary Jo Myers' Nov. 14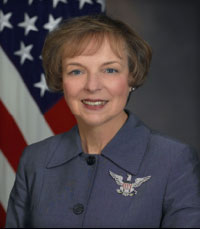 The Office of International Programs Vernon Larson Lecture Series in partnership with the K-State Alumni Association and College of Education C2 Speaker Series, will present, "Global Conversation with Kansas State University's First Lady Mary Jo Myers" at 6:30 p.m. Tuesday, Nov. 14, in the K-State Student Union Ballroom.
Enjoy coffee, chocolate and conversation, and meet K-State first lady Mary Jo Myers, who has a rich international background in public service related to military, educational and humanitarian organizations.
Myers first traveled to Europe with the People to People organization in college. After she married, the Myers family was stationed in Germany and several additional countries throughout Asia. She encouraged her husband to explore and accept as many international postings as possible as she couldn't wait to continue being a globetrotter.
Grant Chapman, interim associate provost of the Office of International Programs; Debbie Mercer, dean of the College of Education; and Amy Button Renz, president and CEO of the K-State Alumni Association, agree it is an honor to combine efforts to invite colleagues, families, students and associates to meet and hear from Myers. K-State is fortunate to have such an inspiring wealth of international experience.
Two of the Myers' three children were born in Okinawa. While living in Japan, Myers became most interested in Japanese textiles. She proposed and spearheaded the publication of "Obi Ties East and West," a hardcover book that illustrates the multiple uses of Obi in home decor. All the book proceeds were donated to charities. Several of her Japanese textiles will be on display at the event.
Myers serves on the Women's Initiative Policy Advisory Council formed by former first lady Laura Bush. A founding member and president emeritus of the Aschiana Foundation, she advocates for support of literacy efforts and vocational training for street children in Afghanistan.
In partnership with her daughters, she launched an online business importing handcrafted folk art from artists in Russia, creating sustainable economies for artists and their families. Products from these Russian folk artists will be available for sale at the event — cash and checks welcome. A portion of the proceeds will be donated to Myers' charities.
Myers is very active in support of K-State, her alma mater, and is currently on the board of trustees. She served as co-chair of the Inspiration and Innovation Campaign and has served on the K-State Alumni Board.
"We are delighted to have Mary Jo be such an engaged alumna as she demonstrates the true spirit and meaning of the K-State family," Button Renz said.
Insomnia Cookies will provide cookies for the event and the K-State Japanese Yosakoi Dance Club will provide cultural dancers as attendees enjoy refreshments.