May 11, 2012
Bradley honored as a distinguished alumnus at University of Wyoming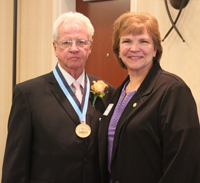 Fred Bradley, professor of special education, counseling and student affairs, was recently recognized as a distinguished alumnus at his alma mater, the University of Wyoming.
Bradley was honored as a College of Education Distinguished Alumni Award recipient at a luncheon April 19 in Laramie, Wyo. The award was established in 2003 and provides a special opportunity to celebrate the outstanding accomplishments of its graduates. Bradley graduated from the university with a master's degree in 1970 and doctorate in 1972.
He joined the K-State faculty as an assistant professor in 1972 and had two major professional goals: to be registered in the Library of Congress and to preside over the Association for Counselor Education and Supervision. He fulfilled the first goal as author of two books. He fulfilled the second goal serving as the Association for Counselor Education and Supervision's president in 2001.
Bradley devoted the last 40 years to the graduate students he took under his wing and to teaching at K-State. He viewed the students as his kids and believed his accountability to them was a lifetime commitment.
Peers recognized Bradley's numerous contributions to the profession in 2011, with his induction into the Kansas Counseling Association Hall of Fame. The honor is bestowed upon only one counselor per year. He also was named Kansas Counselor of the Year in 2000 and recipient of the North Central Association for Counselor Education and Supervision Distinguished Professional Service Award in 1998, Kansas Counseling Association Distinguished Service Award in 1995 and the Association of Counselor Education and Supervision's Graduate Student Mentor Award in 1988.