September 13, 2017
K-State agronomist to discuss mechanism for increase in methane emissions from Alaskan thermokarst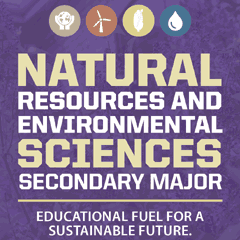 Colby Moorberg, assistant professor of agronomy, will give a public lecture at 11:30 a.m. Thursday, Sept. 14, in 231 Ackert Hall.
Methane is a potent greenhouse gas, and wetlands forming from thawed permafrost represent a significant source of global methane emissions. Rain plays a significant role in increasing rates of both methane production and oxidation. Moorberg will discuss how the interior of Alaska, which is becoming wetter due to climate change, will experience an increase in methane emissions that will fuel additional warming.
This talk is being presented for students participating in the capstone course of the natural resources and environmental science secondary major and is open to the general public as part of the NRES Seminar Series. Undergraduate students interested in natural resources, environmental science and sustainability issues are especially encouraged to attend.
The natural resources and environmental science secondary major and its seminar series are generously supported by the Office of the Provost, College of Agriculture, College of Arts and Sciences, and biological and agricultural engineering department.