September 7, 2017
Walter Hood to give inaugural Ekdahl Distinguished Lecture in Regnier Forum at Regnier Hall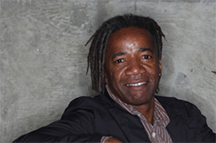 The College of Architecture, Planning & Design will host Walter Hood, creative director and founder of Hood Design Studio. Hood will give the inaugural lecture of the Oscar S. Ekdahl Distinguished Lecture Series in Architecture and Design, titled "Hybrid Landscapes."
Hood will present the lecture in the new Regnier Forum, 1118 Regnier Hall, at 11:30 a.m. Friday, Sept. 15. The lecture is free, open to the public and is sponsored in part by the K-State Student Governing Association's fine arts fee.
Hood is a professor at the University of California, Berkeley and lectures on professional and theoretical projects nationally and internationally. Hood Design Studio is tripartite practice, working across art + fabrication, design + landscape, and research + urbanism. The resulting urban spaces and their objects act as public sculpture, creating new apertures through which to see the surrounding emergent beauty, strangeness and idiosyncrasies. The studio's award-winning work has been featured in publications including Dwell, The Wall Street Journal, The New York Times, Fast Company, Architectural Digest, Places Journal and Landscape Architecture Magazine. Hood is a recipient of the 2017 Academy of Arts and Letters Architecture Award.
The Oscar S. Ekdahl Distinguished Lecture Series in Architecture and Design brings the finest professionals in the design and planning disciplines to APDesign and the K-State community. These individuals are selected to avail faculty, staff, students and regional professionals to the potency of design and planning in addressing the issues we face as a global society. The series honors Oscar Ekdahl who received his Bachelor of Architecture from Kansas State University in 1933 and was a founding partner in Ekdahl, Davis, Depew, Persson Architects PA in Topeka.