September 5, 2017
Alpha Phi Omega #TacosForTexas fundraiser today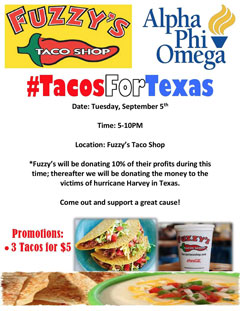 Alpha Phi Omega, a registered student organization, will have a fundraising event from 5-10 p.m. Sept. 5 at Fuzzy's Taco Shop.
Fuzzy's will donate 10 percent of its profits during this time; thereafter Alpha Phi Omega will donate the profits to the victims of the hurricane in Texas.
If you have any questions, please contact Moriah Clark at Moriah3@k-state.edu.