October 26, 2011
Organ division plans festival, honors All Faiths Chapel organ
Submitted by Kristin Mortenson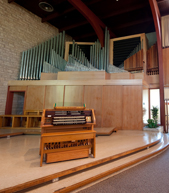 K-State's All Faiths Chapel Memorial Organ has been the recipient of a Historic Organ Citation from Organ Historical Society in Richmond, Va. Recognition of this honor will be one of the many events of the upcoming Kansas State University Organ Festival, Friday, Nov. 4.
This citation program was established to recognize pipe organs which have been deemed to be of historical value worthy of preservation. An organ may be cited for various reasons of historical merit; as valuable in view of its impact on American organ building; as a unique or outstanding example of organ building; or in light of its rarity or geographical scarcity. The All Faiths Chapel Memorial Organ is the second organ in the state of Kansas and the 409th organ in the United States to receive this special citation since the Historic Organs Citations Program was established in 1975.
Recognition of this special citation will be one of the events of the upcoming Kansas State University Organ Festival, Nov. 4, in All Faiths Chapel to celebrate the golden anniversary of the All Faiths Chapel Memorial Organ, built by Austin Organs Inc. of Hartford, Conn., as their Op. #2352 in 1961. This organ was one of the last designed by organ architect James B. Jamison, 1882-1957. Eric Johnson, head voicer with Quimby Pipe Organs, Inc. of Warrensburg, Mo., will deliver presentations at 10:30 a.m. and 2:15 p.m. at the festival, discussing Jamison's life and career and his ideas of organ design.
David Pickering, assistant professor of music, will speak about the history the All Faiths Chapel Memorial Organ in an afternoon presentation beginning at 1 p.m.
Composer Daniel E. Gawthrop will also be in residence at the festival, conducting an 8:45 a.m. master class of his organ music and participating in a 3:45 p.m. panel discussion with Pickering titled "Commissioning New Music — The Hows, the Whys, the Mysteries and the Miracles." Gawthrop will also deliver a pre-concert lecture of his "Symphony No.2 — The Austin," a new work written specifically for this festival that Pickering will premiere as the concluding number on a concert which will begin at 7:30 p.m. in All Faiths Chapel. Gawthrop will be available after the concert to autograph free copies of "Symphony No. 2" for anyone interested in receiving a copy.
The conference brochure, complete with registration form, may be found by visiting the festival website online. Select Events from the drop-down menu and then select Kansas State University Organ Festival to read more about Austin Op. #2352, the festival schedule, and the festival presenters. Students are admitted free to attend the festival, so please provide valid documentation of student status such as a student ID or other paperwork at check-in, while the cost for other attendees is $25. The panel discussion, pre-concert lecture and 50th anniversary concert will be free and open to the public. Questions about the organ festival may be directed to Pickering at dpickeri@ksu.edu.