August 23, 2017
Pickering to perform faculty organ recital Friday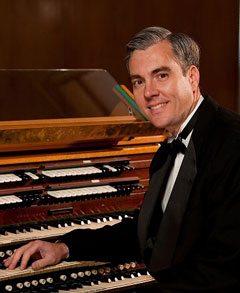 David Pickering, associate professor of music, will perform a faculty organ recital at 7:30 p.m. Friday, Aug. 25, in All Faiths Chapel. The program, titled "Bach and the Americans," is free and open to the public and will last about an hour.
Pickering will open the program with a performance of Johann Sebastian Bach's famous "Toccata and Fugue in D Minor," BWV 565. The remainder of the program will be devoted to the music of American composers Daniel E. Gawthrop, Alice Jordan, S. Andrew Lloyd, Richard Purvis and Leo Sowerby. Pickering will be joined by Arlene Small, his first organ teacher, in the performance of an organ duet.
The All Faiths Chapel organ was built by Austin Organs, Inc. in 1961. It was awarded a Historic Organ Citation by the Organ Historical Society upon its 50th anniversary in 2011.