July 26, 2017
Park management and conservation graduate student travels to Vietnam as filmmaker-in-residence for wildlife conservation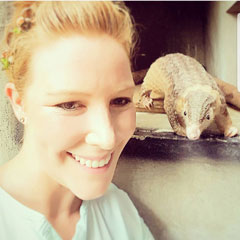 For the next month, Ashley Kelly, a graduate student in park management and conservation, will be in a remote village near Cúc Phương National Park, deep in the jungle of Northern Vietnam. She is working as a filmmaker-in-residence with an organization called Save Vietnam's Wildlife, thanks to a collaboration with the Taronga Conservation Society Australia.
Kelly will develop a media strategy and short films to raise awareness of the plight of Vietnamese wildlife and the work being done to save them. She also will assist with the development of a behavior-change campaign and education resources. Kelley is completing her master's thesis on international wildlife conservation with Jeffrey Skibins, assistant professor of park management and conservation.
Save Vietnam's Wildlife is active on the front line of defense against the illegal wildlife trade in Asia. The organization has rescued more than 700 animals including pangolins, binturong, leopard cats and civets, with more than 400 animals being successfully released back to the wild.
Save Vietnam's Wildlife also has built an education center with interactive interpretation, and covers the costs for local school groups to attend its education workshops. The organization provides anti-poaching training to park rangers and law enforcement and conducts research on the status of wild pangolin populations. The organization also conducts social-science research on the wildlife knowledge of locals and their attitude toward consumptive and medicinal uses of wildlife, to develop targeted behavior change campaigns. It has successfully advocated for the removal of pangolin scales from the list of medicines covered by insurance as well as the up-listing of all eight pangolin species to CITES Appendix 1, making it illegal for them to be traded.