July 20, 2017
Furniture Amnesty Day coming July 28
Submitted by Theo Stavropoulos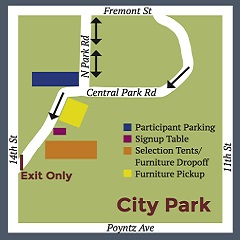 Furniture Amnesty Day is a communitywide service event that encourages the community to properly dispose of unwanted furniture, recycling it for others to use and keeping it out of the landfill. In partnership with the city of Manhattan and Konza United Way, HandsOn Kansas State — a program of the Staley School of Leadership Studies — will host this annual event on Friday, July 28, in City Park.
K-State students and local residents can donate furniture they no longer need so others can select from the donated goods for free. For details on donating furniture or selecting donated items, read below or visit the city of Manhattan's Furniture Amnesty Day website for more details.
To donate, you can drop off your furniture between 7 a.m. and 4 p.m. on the day of the event in City Park. Or, if you live in Manhattan city limits, you can have your donation picked up. You must fill out the online form or call 785-587-2404 by 5 p.m. July 26 to be on the collection route. Furniture must be on the curb by 7 a.m. on July 28. To learn more about the items that can be picked up, see the city's website for more details.
If you'd like to select from the donated furniture, you'll need to participate in the public sign-in, which begins at 8 a.m. July 28. You will be able to choose from available time slots between noon and 4 p.m. Each household will be allowed to select up to five pieces of furniture.