July 10, 2017
K-State professors are inducted to the US Army Noncommissioned Officer Corps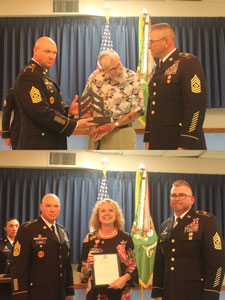 Two Kansas State University faculty were inducted into the U.S. Army Noncommissioned Officer, or NCO, Corps on June 29 at the Manhattan American Legion. The ceremony was organized by the 97th Military Police Battalion, 1st Infantry Division, Fort Riley, the Military Police Regimental Association-Flint Hills Chapter and Pearce-Keller Post No. 17 American Legion.
Clyde Ferguson, professor emeritus of history, is a Koran War veteran and earned his stripes before perusing a distinguished career in academia. This was his first Noncommissioned Officer Induction ceremony.
Briana Nelson-Goff, professor of family studies and human services, is an honorary inductee to the Noncommissioned Officer Corps. She was nominated in recognition of dedication to the military community through multiple efforts regionally and nationally.
They were inducted along with a museum historical curator and eight active duty soldiers from the 97th MP Battalion. The ceremony included reciting the Creed of the Noncommissioned Officer and signing the Charge of the Noncommissioned Officer.