July 6, 2017
XIVth International Nidovirus Symposium spotlights Kansas State University expertise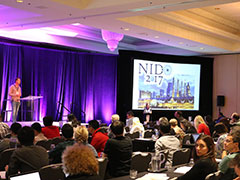 America's city of fountains recently hosted more than 250 international scientists who all share a passion for a unique group of viruses called nidoviruses.
Kansas State University was well-represented at the XIVth International Nidovirus Symposium in Kansas City, Missouri, thanks to the efforts of Ying Fang, professor in the College of Veterinary Medicine, who chaired the symposium with her co-chair Susan Baker, a professor from Loyola University Chicago.
"The nidovirus symposium rotates every three years and was last held in Salamanca, Spain, in 2014," Fang said. "We chose Kansas City for this year's location since it is located within the Kansas City Animal Health corridor, which is the home to more than 300 animal health companies, the largest concentration in the world. With the location being closer to K-State, my local team had more responsibility in planning the meeting and taking care of the day-to-day activities during the symposium. This location also gave us an excellent opportunity to highlight the National Bio and Agro-defense Facility."
Fang said the five days of research presentations included welcome opening speech by Frank Blecha, associate dean for research in the veterinary college, and special presentation by Ron Trewyn, Kansas State University's full-time liaison to NBAF. K-State researchers were well-represented with five oral presentations and 13 research posters.
But what are nidoviruses?
The nidovirus order comprises four families of single-stranded positive-sense RNA viruses, including well-known human pathogens, such as MERS- and SARS-coronavirus, and economically important animal viruses such as those causing porcine reproductive and respiratory syndrome, or PRRSV; porcine epidemic diarrhea, or PEDV; equine arteritis, or EAV; and chicken infectious bronchitis, or IBV.
Nido2017 included a variety of plenary and poster sessions, roundtable discussions and a workshop, "Translating NidoResearch into Field Applications," with the goal to engage academic experts with industry professionals to promote the development of nidovirus diagnostics, vaccines and therapeutics.
"We believe this event helps better our positions as scientists to respond to future disease outbreaks," Fang said. "Sharing our knowledge allows us to enhance our capabilities for developing effective control and prevention measure for both endemic and emerging nidoviruses."
Fang expressed gratitude in working with her team of local organizers from Kansas State University, including members from her research lab, events and communications personnel in the veterinary college, and events coordinators with Kansas State University's Global Campus office. She also thanked the symposium's sponsors, which included companies and organizations from the U.S., China and Europe.
"Their sponsorship was essential to the success of our meeting," Fang said.