June 22, 2017
Food Armor Foundation appoints Kansas State University's Brian Lubbers to board of directors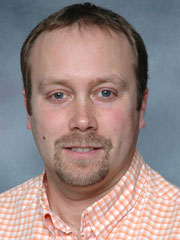 Brian Lubbers, director of clinical microbiology in the College of Veterinary Medicine at Kansas State University, has been chosen as a member of the Food Armor Foundation's inaugural board of directors.
The Food Armor program grew out of an initiative started in 2012, when the Wisconsin Veterinary Medical Association formed a Residue Task Force to develop an industry-based program to address dairy beef drug residues. The task force worked in partnership with the Professional Dairy Producers of Wisconsin and launched an educational program called "What Matters."
The "What Matters" initiative now includes efforts to educate producers and help provide action plans at the farm level. The Food Armor program incorporates the hazard analysis and critical control points, or HACCP, approach toward drug use and residue prevention in a manner that is tailored to the needs of the individual dairy farmer.
"The Food Armor program is all about improving food safety by ensuring proper drug use on farms," Lubbers said. "This program has been very successful and it is an exciting opportunity to help them grow their outreach efforts to a national audience of veterinarians and farmers."
"Dr. Lubbers brings invaluable experience and perspective to this new foundation," said Katie Mrdutt, Food Armor outreach specialist. "Food Armor is thrilled to work with him and other industry leaders to bring this innovative grass-roots program to farmers everywhere. Built on the foundation of a veterinarian and producer working closely together, Food Armor is committed to transparency and accountability for how food is produced."
Lubbers earned his Doctor of Veterinary Medicine from Kansas State University in 2002. He also has a Doctor of Philosophy and is a diplomate of the American College of Veterinary Clinical Pharmacologists. Another Kansas State University alumnus, Gatz Riddell '77, also is on the board of directors. The rest of the 12-member board comprises a mix of veterinarians, dairy producers and industry leaders representing farm to fork.