June 19, 2017
New Talk20MHK event features K-State experts, local enthusiasts and explorers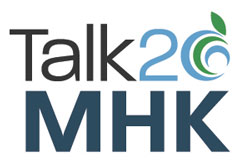 Four K-State experts and four local enthusiasts will share their knowledge, stories and skills with the Manhattan community at Talk20MHK from 7-8:30 p.m. Thursday, June 22, in the Manhattan Public Library auditorium, 629 Poyntz Ave. The event is free and open to all ages.
Talk20MHK is a collaborative project between UFM Community Learning Center and Manhattan Public Library to build strong community connections by giving individuals a platform to share various topics with others in the community. Two events will take place each year, one in June and one in January.
The speakers will each give a dynamic, seven-minute presentation featuring 20 PowerPoint slides. The audience will have a chance to ask questions and visit with the speakers after the presentations.
The following individuals are June 2017 Talk20MHK presenters; included is their topic:
Whitney Bandel, instructor of art: Electronic textiles for STEM (STEAM)
Carol Barta, permaculture
Susanne Glymour, peaceful communication
Zain "Zen" Iqbal, instructor at Hale Library: Cross-cultural exchange
Daniel Ireton, associate professor at Hale Library: Swordfighting
Brandon Irwin, assistant professor of kinesiology: Tiny House MHK
Marcia Rozell, paddling Kansas waterways
Doug Tippin, Military Trail Project
For more information about the presenters and the event, visit talk20mhk.org.
UFM Community Learning Center is a creative educational program serving Kansas State University, Manhattan and communities across Kansas.