June 14, 2017
Kansas State University Polytechnic Campus student lands summer internship at NASA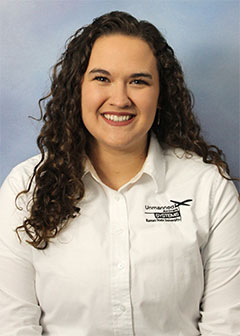 Kendy Edmonds, a senior at Kansas State University's Polytechnic Campus, is spending the summer advancing unmanned aircraft systems technology at the nation's best-known entity for space exploration.
Edmonds, Valley Falls, who is double majoring in unmanned aircraft systems, or UAS, flight and operations and UAS design and integration, has been selected for an internship with NASA where she is focusing on data management of small UAS. Based at the Goddard Space Flight Center in Greenbelt, Maryland, which is NASA's first space flight complex established in 1959, Edmonds hopes to gain insight and experience in creating a streamlined process for collecting, storing and managing UAS data, including best practices in organizing and labeling the digital information as well as how long it should be saved and what can be deleted.
As a data processing assistant in the Applied Aviation Research Center, or AARC, at Kansas State Polytechnic, Edmonds said it is imperative for the UAS industry to have a proper system of gathering and safely maintaining data so that information about unmanned aircraft and any incidents in the field can be reported and recorded to continue improving the technology. Accurate data management also prevents the onset of dark data, which refers to information that fails to get used for a purpose.
"I can't wait to see what kind of data they are gathering, what they are using it for and how their management system works," Edmonds said before starting her internship June 5. "NASA is such a substantial organization with so much innovation, it will be fascinating to see how they are tackling the UAS data challenge."
The position at Goddard Space Flight Center will be Edmonds' first internship — she has previously spent her summers in college working at the Applied Aviation Research Center. And it is this experience along with her involvement on campus that her supervisor believes helped her stand out from the rest of the applicants and will provide her with the necessary tools to succeed.
"Since joining our team, Kendy has impressed me with her quick ability to pick up the highly technical elements of photogrammetry and data analysis. In addition to her role at AARC, she has served as a flight instructor to her underclassmen and the president of the UAS club, all while continuing to excel academically," said Kurt Carraway, UAS executive director of the Applied Aviation Research Center at Kansas State Polytechnic. "NASA hires the best and Kendy's selection is indicative of the type of person she is. I am confident she will continue to be a role model and an outstanding example of what leadership in aviation is all about."
"I am truly humbled by this opportunity," Edmonds said. "I know I'll only be there for 10 weeks, but I want to be challenged. I want to do something huge, something groundbreaking!"
Edmonds will complete her internship at NASA on Aug. 11.