May 30, 2017
Summer special: K-State treats and stories in 'Teatime to Tailgates'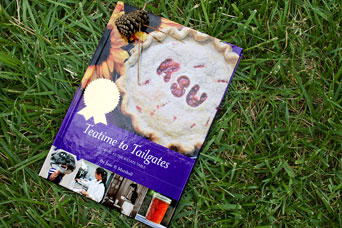 With school ending and summertime upon us, people are gathering in kitchens and outdoors, telling stories about life and what happened when Jimmy Carter was president. During these special times, there's one thing that always brings people together — hearty, delicious food.
The College of Human Ecology has published a book that speaks to these very events — "Teatime to Tailgates: 150 Years at the K-State Table." Authored by K-State alumna and professor, long-time educator and former college communications director, Jane P. Marshall, this book combines K-State history with famous recipes. It details how the K-State family developed through the love of one another and a love of food.
This wonderful compilation includes recipes from campus, Aggieville, the Brookville Hotel and a few infamous Kansas City locales. The accompanying stories date back to K-State's beginnings in 1863 and run through 2013, when K-State celebrated its sesquicentennial. "Teatime to Tailgates" is full of wit, heart-warming humor and mouth-watering formulas to transform the simplest of foods.
In order to better prepare for a summer of good times, try to attain master status of flame cooking with the perfect Kansas grilled steak. The ingredients? Just one Kansas rib-eye steak, coarsely ground black pepper and salt. Or attempt a legendary side dish with the Brookville Hotel's sweet and sour coleslaw. Add a dessert — chocolate chirp cookies — but you might need to preorder a sufficient supply of dry-roasted crickets. These cookies will pack more nutritional value than the regular chocolate chip variety.
To get your hands on a book for you, your friends or your folks, fill out a PDF order form or visit 119 Justin Hall on K-State's Manhattan campus. The hardback book is $24.95, plus shipping and handling, if needed, and all proceeds go to College of Human Ecology undergraduate student research and international study opportunities.