May 26, 2017
A round of applause: Kansas State Polytechnic celebrates student achievements at annual end-of-the-year awards banquet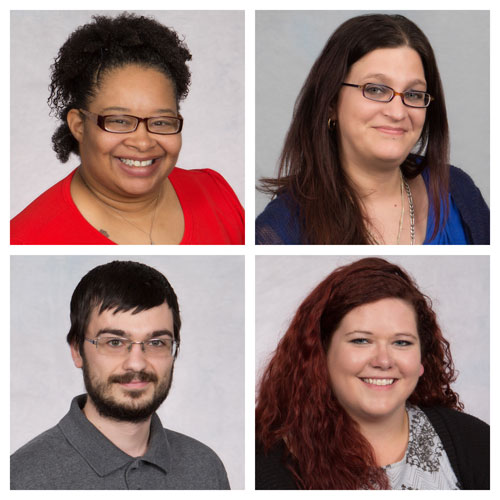 The motto on the Kansas State University Polytechnic Campus is "the experience matters," and for many Wildcats, these are words they have taken to heart.
Along with performing the typical duties of an undergrad — engaging in classroom discussion, attending study sessions and turning in homework on time — students at Kansas State Polytechnic are making vital contributions to their major, clubs and organizations; fellow students; and the overall morale of the campus by enthusiastically and selflessly going beyond what is asked of them. Some students spend several extra hours a week in a learning laboratory just because they have a genuine desire to know more. Others take on the responsibility of being a voice for their peers and join student government. And for a few, it may be random acts of kindness that fulfill their time on campus.
Whatever the case may be, Kansas State Polytechnic highlights those students who make the most of their experience at the annual Awards and Recognition Banquet. Celebrating its 31st year, the dinner and awards show on April 20 brought together students, faculty and staff to honor personal and educational accomplishments from the 2016-2017 school year.
Close to 30 accolades were handed out, ranging from each majors' student of the year to the coveted Wildcat Pride awards, which spotlight community service involvement, inspirational actions, and both a determined and dedicated attitude. The award nominations were open to anyone on campus and after submitted, were voted on by an established committee.
"Each student brings a unique perspective, special talents and skills, and a vibrant personality that contribute to the success of the campus," said Verna Fitzsimmons, CEO and dean of Kansas State Polytechnic. "They deserve to be recognized for their dedication. The awards banquet is a great opportunity to acknowledge our outstanding students and celebrate their work."
Taya Smith, a senior in social work, Salina, received the Wildcat Pride award for community service. According to its nomination description, the award recognizes a student who understands the civic responsibility of serving the community. The student sees the bigger picture and is aware of the community's needs.
Smith was selected because of her passion for helping others and bringing people together. She has been devoted to expanding diversity awareness both on campus and off. She has assisted in the planning of many events that bring the community to Kansas State Polytechnic and has been involved in many clubs and organizations.
According to her nominators, Smith "exemplifies the true meaning of service" and has used the obstacles she has faced in life as inspiration to guide others through their own hardships.
Sarah Longey-Hassell, a spring 2017 graduate in social work, Larned, is the recipient of the Wildcat Pride award for determination, which suggests its winner shows a quality of firmness in beliefs and actions, doesn't quit until an answer or decision is reached and pursues life by focusing on achieving a goal with passion.
According to one of her nominators, "Sarah is the most determined person I have ever met." She was chosen because she isn't afraid of any obstacle in front of her and has a never-quit mentality. She also is a mother who has worked hard at prioritizing her life to meet her goal of graduating on time.
Alec Cork, a senior in electronic and computer engineering technology, Wichita, received the Wildcat Pride award for most inspirational student. This award recognizes someone who inspires others to achieve the highest level at which they are capable, and epitomizes the qualities of determination, dedication and service. This student must also maintain a GPA of 2.5 or above.
Cork was selected because of his character and involvement around the Polytechnic Campus. He is a student worker in the library at the front desk and can often be found giving academic assistance to his peers in math and electronics. He also likes to interact with students on the library floor, asking about their well-being. Cork even uses his skills to help repair broken technology equipment on campus.
His nominators said, "Alec is a caring person who makes everyone feel they have something to contribute simply by providing encouragement and a reliable presence."
Macy Schneweis, a spring 2017 graduate in social work, Salina, is the recipient of the Wildcat Pride award for dedication, which is given to the student who is committed to a particular course of thought or action. He or she goes above and beyond on a project and may display characteristics of being a multitasker.
Schneweis was selected because of her energy, enthusiasm and commitment to helping the Polytechnic Campus achieve success. Through her leadership, driven attitude and solid ideas, she has helped Student Governing Association and the many clubs and committees she's involved in to run more smoothly and efficiently. According to her nominators, "Macy's passion for fellow students and this campus makes her truly deserving of this award."
The following students received awards at Kansas State Polytechnic's 31st annual Awards and Recognition Banquet:
Outstanding Academic Student Awards
Elliot Rogers, airport management
Hannah Schulte, applied business
Hyunsu Kim, aviation maintenance
Mary Monsanto, chemistry
Ryan Fabac, computer systems technology
Eric Perkins, electronic and computer engineering technology
Reagan Hotz, expository writing
Courtney Hoffman, family studies and human services
Tyler Montgomery, mechanical engineering technology
Logan Gideon, Outstanding Student Life Graduating Senior
Steve Magnum, Professional Master of Technology
Matthew Katzke, Professional Pilot
Carol Thorstad, social work
Meredith Thompson, technology management
Kendy Edmonds, unmanned aircraft systems design and integration
Preston Renfro, unmanned aircraft systems flight and operations

Outstanding Campus Awards
Julie Rowe, Academic Advisor/Faculty Mentor of the Year
Tim Bruner, Club Advisor of the Year
Cheryl Calhoun, Faculty Member of the Year
Intramural Team of the Year — Stallions
Zach Smith, Larry Caldwell Sportsmanship Award
Cody Waterman, Staff Member of the Year
Spencer Schrader, Student Employee of the Year
UAS Club, Student Organization of the Year