May 24, 2017
Consumer Movement Archives wins prestigious award from American Council on Consumer Interests
Submitted by Sarah McGreer Hoyt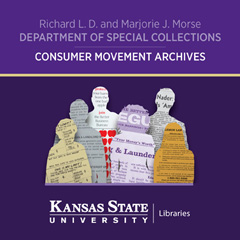 The American Council on Consumer Interests has honored the Consumer Movement Archives at Kansas State University Libraries with the Stewart M. Lee Consumer Education Award. Jane Schillie, special collections librarian, and Martin Seay, associate professor in the School of Family Studies and Human Services, accepted the award at the council's conference April 21 in Albuquerque, New Mexico.
The Consumer Movement Archives, housed in the Richard L.D. and Marjorie J. Morse Department of Special Collections, was established in 1987 through the initiative of Richard L.D. Morse. Morse was a prominent leader in the consumer movement, a K-State professor and chair of the family economics department. The Consumer Movement Archives provides a repository for the papers and records of consumer leaders, activists and organizations, and it promotes scholarly use of the material. Among its holdings are Stewart M. Lee's personal papers.
Irene E. Leech, associate professor in the apparel, housing and resource management department at Virginia Tech, nominated the Consumer Movement Archives, calling it "The most important repository for the consumer movement" and "a focal point for our history, a place to put the things that document the consumer movement's people and their actions."
"In the future, consumer educators will not have to guess the topics, teaching strategies or teaching materials used to educate consumers at various points in history. They will be able to see them and understand," Leech said.
Morse's daughters, Nancy, Mary and Susan Morse, issued a statement of appreciation and noted, "It is an extra bonus that this award is in honor of Stewart M. Lee, who, at the invitation of our father, came several summers to Kansas State as a visiting professor."
Founded in 1988, the award was created in honor of Lee's outstanding, long-term contributions to consumer education. Lee also made a significant impact on the field of economics on a national level, testifying as an authority in the field of consumer interest before House and Senate Committees and government agencies in Washington, D.C.
Each year the Stewart M. Lee Consumer Education Award recipient is an individual or organization that has made multiple, important contributions to the field of consumer education over a long period of time, or a single, uniquely outstanding contribution of lasting impact. The Consumer Movement Archives is only the second organization to receive the award since its inception in 1990. The other organization was Consumers Union — aka Consumer Reports. Every other winner has been an individual.