May 22, 2017
Confucius Institute to host Chinese culinary workshop today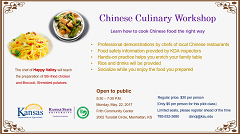 The K-State Confucius Institute and Kansas Department of Agriculture will host a Chinese culinary workshop from 5:30-7:30 p.m. Monday, May 22, at the Frith Community Center at Jardine Apartments. A local chef will teach participants how to make two dishes: stir-fry chicken and broccoli, and shredded potatoes.
The Chinese culinary workshop series will demonstrate proper food handling procedures, and share essential food safety information in a fun and relaxed environment.
Space is limited to 15 individuals; please RSVP to Danqi Wang at danqi@k-state.edu. The cost of the first event is $5 to ensure attendance, venue planning and food preparation. Rice and drinks will be provided.
After cooking your Chinese dish, everyone will have the opportunity to eat together and share their experience.
Read more information about the workshops online, or contact Shijun Yan at shijunyan@k-state.edu or 785-532-3682 with any questions.