May 19, 2017
Celebration of life today for James B. Boyer
Submitted by Office of Diversity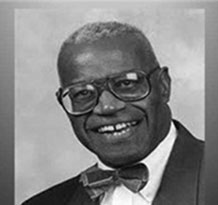 On behalf of the Office of Diversity, it is with sadness that I share the celebration of life service for Rev. Dr. James B. Boyer, professor emeritus in the College of Education. The service will be at 11 a.m. Friday, May 19, at First United Methodist Church, 612 Poyntz Ave. in Manhattan.
As a matter of introduction to some and reminder to others, in 1971, Dr. Boyer joined the faculty in the College of Education beginning his distinguished career as the first African-American tenured teaching faculty member. He was a pillar of strength and love on campus and in the Manhattan community by sharing his leadership and mentorship for all. In that same vein, we thank him for his work and vision in the area of diversity, inclusion and social justice, for Dr. Boyer was an individual who blazed the trail for the trailblazers of today. As an example, he was a founding member of the Black Faculty and Staff Alliance. He advised several graduate student projects that led him to teach around the globe. Education was his forte.
In the Manhattan community, Dr. Boyer was the founding pastor of the Fellowship Temple Church of God in Christ, a part of the Kansas East Jurisdiction of the International Churches of God in Christ. He was an accomplished musician, writer, gospel composer, recording artist, scholar and pastor. In his lifetime, he received numerous local, regional and national awards. As a servant leader, Dr. Boyer lived what he taught.
He leaves his wife and partner of more than 57 years, Edna M. Boyer, a retired librarian at the Manhattan Middle School; his son, Alan W. Boyer, a K-State alumnus, and daughter-in-law, Myra, Atlanta, Georgia; and a host of friends and loved ones.
I am sure you, the K-State family, will join me in sending our condolences to the Boyer family. If you are interested in continuing his work in the area of diversity and education, you can make a donation by check or online to the James B. Boyer Diversity Advocacy Fund. The fund is in the College of Education and its number is H23207. You also may send cards or flowers for the family to Irvin-Parkview Funeral Home.
Zelia Z. Wiley
Interim associate provost for diversity